Phantasmography I: Spaces of Extraction
An exhibition of student works by the studio Phantasmography led by Prof. Michael Hirschbichler at the Institute for Art and Architecture.
Guided tours take place on June 17 and 18 at 5 p.m. Meeting point at the building entrance of Augasse 2-6.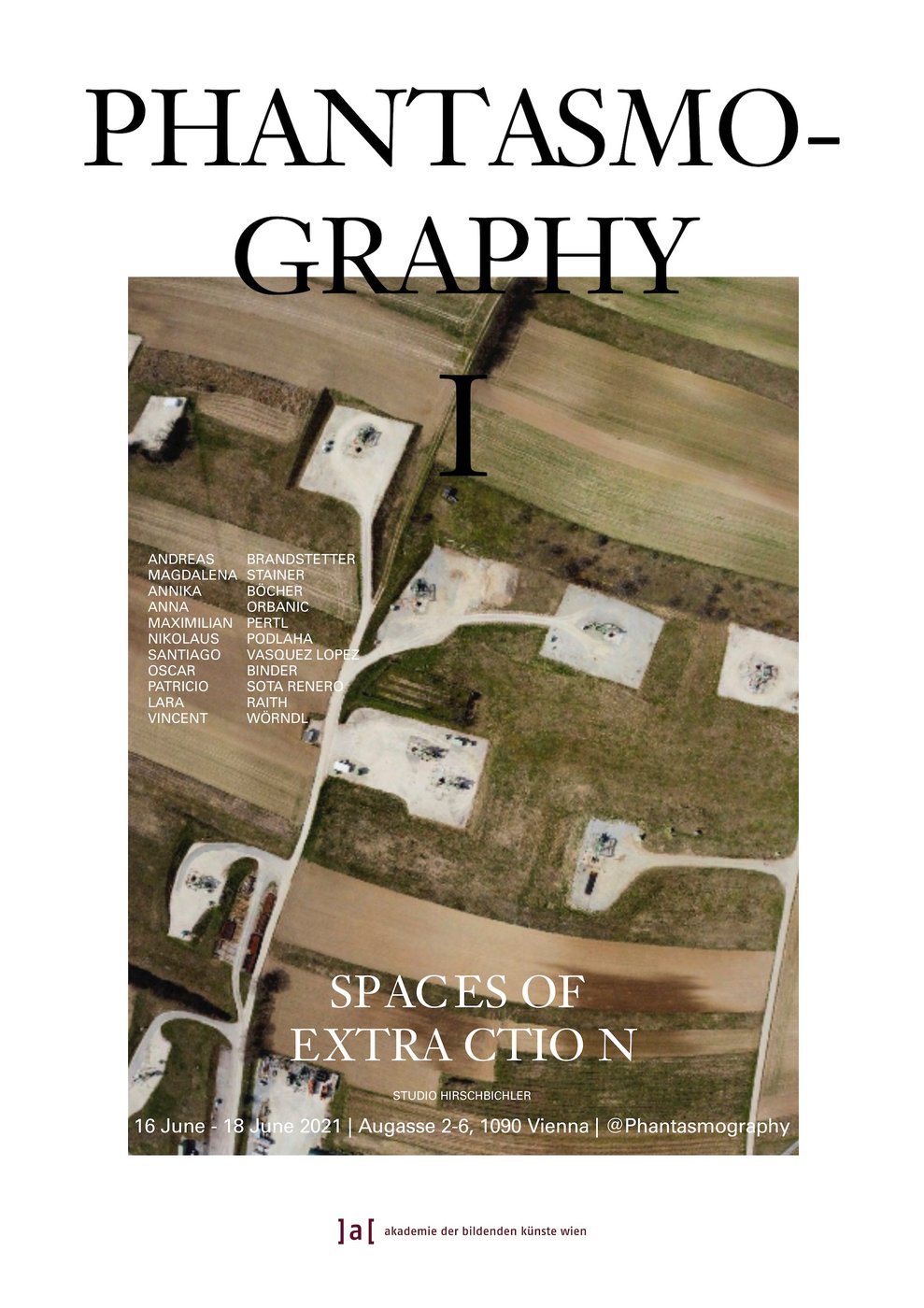 Spirits, specters, ghosts and phantoms have come to assume a central role in contemporary discourse and imagination. This may in part be explained by the new unfamiliarity and uncanniness of nature, by rapid technological developments, and by political, economic and cultural constructions that often transcend the realm of the rational.
In order to engage with contemporary spaces and landscapes – that unfold beyond any clear distinction between nature and culture, humans and nonhumans, active and passive matter, the secular and the nonsecular, the real and the imaginary – the studio has tried to develop the approach of a "Phantasmography". Phantoms and phantasms have always been situated in between clear-cut areas of space and thought, and thus offer powerful concepts to re-think our complex reality from a different vantage point. Understood in a very general sense, phantoms and phantasms are invisible or hard-to-grasp agents – real or imaginary – that nonetheless shape our material world. They can be formerly existing persons or species, very small or very big things or beings, mental images and sociocultural narratives, neglected pasts and imagined futures, hopes, dreams and fears.
In the studio we were concerned with tracing and uncovering the phantoms and phantasms that are engrained in various spaces of extraction in and around Vienna. Combining methods and techniques from architecture, art and anthropology, and employing a multisensory set of media, we investigated such spaces in fieldwork. Moving between research and design, modern and nonmodern perspectives, and facts and fictions, our aim was to make sense of these spaces by curiously and critically engaging with them.
The exhibition includes works of Andreas Brandstetter, Magdalena Stainer, Annika Böcher, Anna Orbanic, Maximilian Pertl, Nikolaus Podlaha, Santiago Vasquez Lopez, Oscar Binder, Patricio Sota Renero, Lara Raith, Vincent Wörndl.

COVID-19 Prevention
The wearing of a FFP2 mask is obligatory during the entire visit. Keep your distance to other visitors (at least 2 meters). Please disinfect your hands when entering and leaving the building, disinfectants are available.

An exhibition of student works by the studio Phantasmography led by Prof. Michael Hirschbichler at the Institute for Art and Architecture.

Guided tours take place on June 17 and 18 at 5 p.m. Meeting point at the building entrance of Augasse 2-6.


Opening

Augasse

Art and Architecture