Conservation Architect and his contribution to the Academy of Fine Arts Vienna
Lecture by Carl Pruscha at the Institute for Art and Architecture.
Registration at arch@akbild.ac.at
The event will be held in German.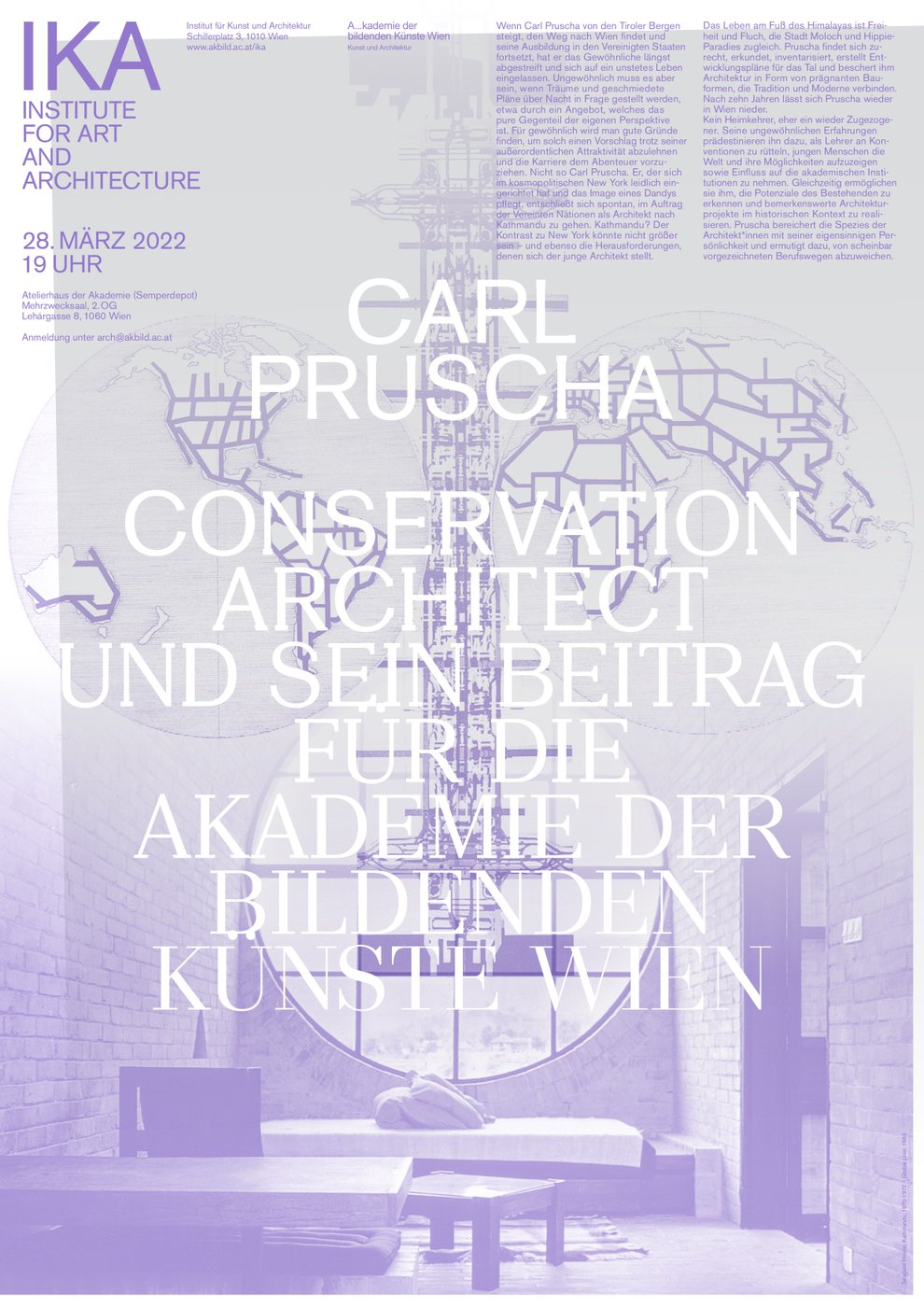 Werkgespräch with the architect Carl Pruscha
When Carl Pruscha left the mountains of Tyrol, found his way to Vienna, and continued his education in the United States, he had long left the beaten path and embarked on an unsettled life. It is fully out of the ordinary when, on top of that, dreams and long-held plans are called into question overnight, for instance by an offer to take up a career representing the exact opposite of one's own perspective. Usually, people will find good reasons to decline such a proposal, regardless of its singular appeal, to forego adventure and stay on the safe and narrow path. Not Carl Pruscha. Having set up shop fairly successfully in cosmopolitan New York and cultivating
the image of a dandy, he decided on the spur of the moment to relocate to Kathmandu as an architect on assignment by the United Nations. Kathmandu? The contrast to New York could not have been greater—the same goes for the challenges the young architect had to overcome.
Life at the foot of the Himalayas meant freedom and a curse, the city was both a Moloch and a hippie paradise. Pruscha found his way around, explored, inventoried, drew up development plans for the valley and brought architecture in the form of a distinctive type of building that wedded tradition with Modernism. After ten years, Pruscha settled down in Vienna again. Not so much as a homecomer, more as a repeat newcomer. His unusual experience gave him the perfect background to become a teacher who shakes up conventions, shows young people the world as well as their options, and exerts influence on academic institutions. At the same time, it gave him the ability to see the potential in existing conditions or structures and realize remarkable architectural projects in a historical context. Pruscha enriches the species of architects with his opinionated personality and encourages them to deviate from seemingly preordained career paths.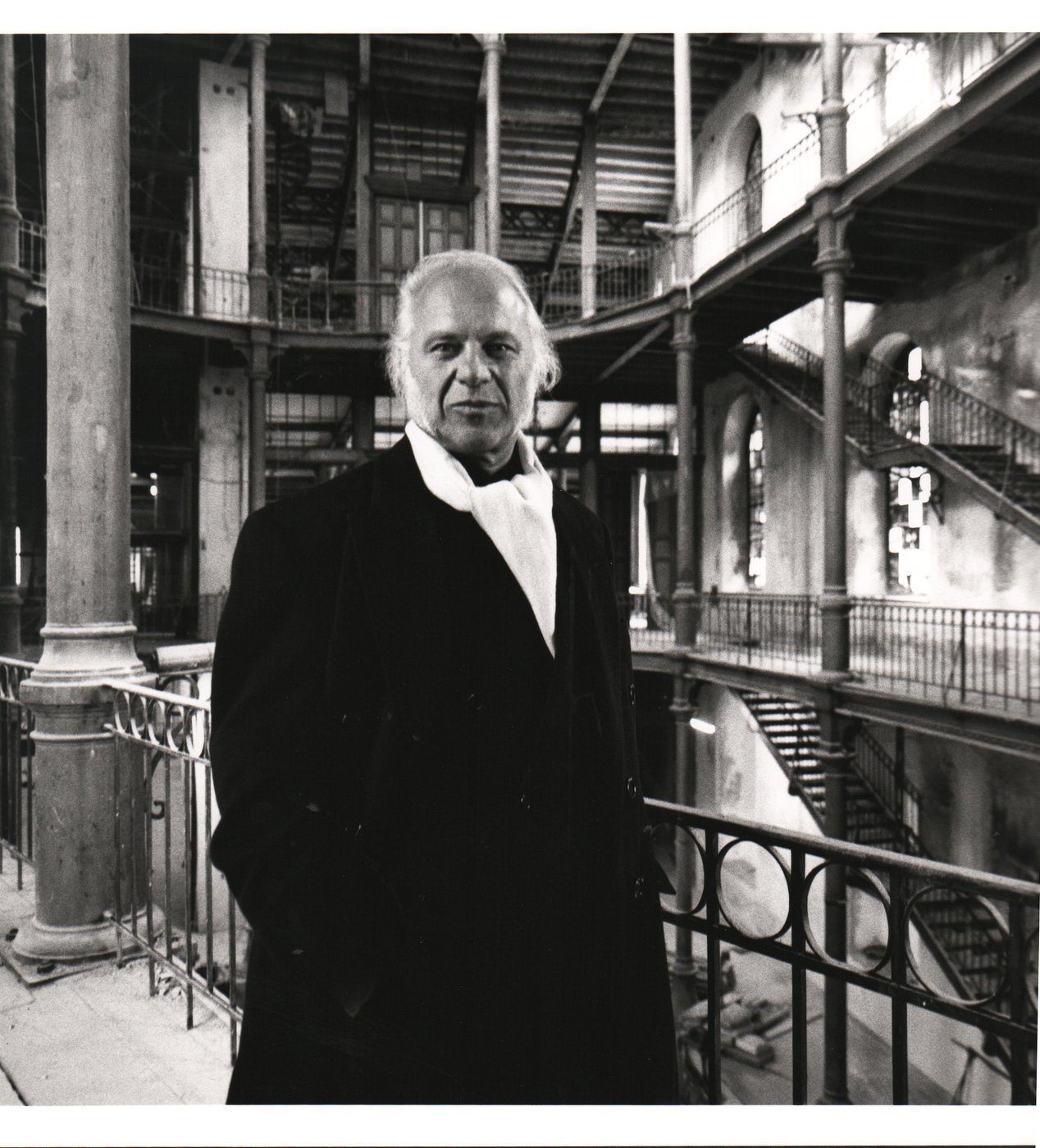 Carl Pruscha
Born 1936 in Innsbruck; studied at the Academy of Fine Arts in Vienna and at the Graduate School of Design of Havard University, Cambridge; 1964-74 government advisor to the UN in Nepal; from 1974 office in Vienna; 1976-88 professor, 1988-2001 rector and 2001-04 honorary professor at the Academy of Fine Arts Vienna; Numerous buildings including 1967-69 CEDA building; 1970-72 Taragaon hostel (both in Nepal); 1975-2008 revitalisation of Schloss Gattendorf; 1992 Traviatagasse housing estate, Vienna; 1993-95 revitalisation of Semper Depot, Vienna; 2001-06 Lagoon bungalow and school, Sri Lanka; 2004 MQ-West, Museumsquartier, Vienna; 2012 Palmgrove bungalow, Sri Lanka