Transatlantic Modernities between Brazil and Austria.
Coordinators: Prof. Ana Magalhães (Museum of Contemporary Art of the University of São Paulo) and Prof. Sabeth Buchmann (Academy of Fine Arts, Vienna)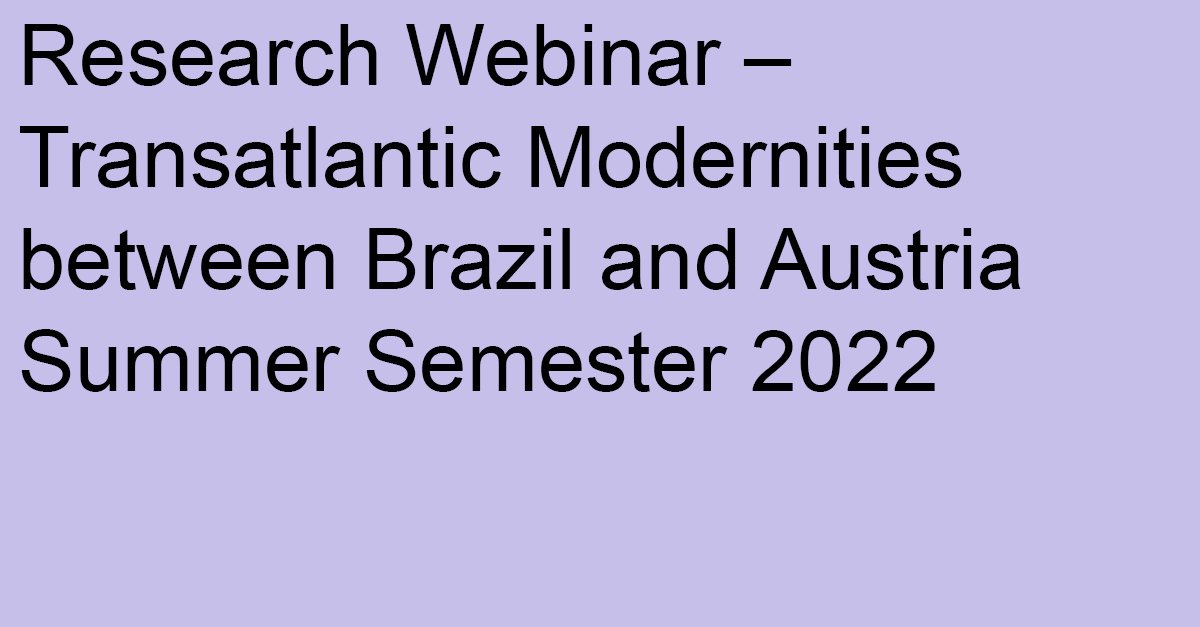 Invited scholars and artists: Claudia Augustat, Ana Avelar, Denilson Baniwa, Jens Baumgarten, Laura Erber, Dominika Glogowski, Christian Kravagna, Guilherme Mata, Susanne Neubauer/ Marcelo Mari, Sérgio Martins, Luís Camillo Osório, Valéria Piccoli, Mariana Sombrio, and Camila Sposati.
Presentation:
Despite the many differences and distances between Brazil and Austria, the history of these two countries has been intertwined ever since the beginning of the 19th century. As she arrived in Brazil, in 1818, to marry the Portuguese Prince, D. Pedro I, Leopoldine von Habsburg had been prepared to fulfill an important mission by her father, i.e., create an alliance between the Portuguese Royal Court (settled in Rio de Janeiro since the Napoleonic Invasion in Portugal, in 1808) and annex the new Empire into the greater influence of the Habsburg Empire. Although the project failed and by the 1830s, the Austrian Emperor gave up any hope of having a territory in the Americas, such initiative left many significant marks, both in Brazil and in Austria.
This year, Brazil will celebrate the bicentennial of its independence (1822-2022), while reevaluating the narratives of modernism that have risen from the so-called Semana de Arte Moderna of 1922. This research seminar will invite scholars and artists to discuss topics recently explored in the fields of History, Theory and Criticism of the Visual Arts that have helped to throw new light on the cultural and artistic exchanges within the transnational encounters between Austria and Brazil. Some of the themes to be dealt with are:
The Museu Nacional in Rio de Janeiro and the Austrian Expedition of 1818
The so-called Brasilianeum in Vienna (1821-1831) and the voyages of Johann Natterer in Brazil and Thomas Ender's watercolours of Brazil
Brazilian delegations at the Universal Exhibitions in the second half of the 19th century
Austrian artists in Brazil and Brazilian artists in Austria from the 19th to the 21st century
Austrian delegation at the Independence Centenary International Exposition, 1922
Austrian delegations at the São Paulo Biennial
Austrian immigrant intellectuals and artists in Brazil, 1930-1950
National Identities and Modernity
Indigenous and African-diasporic Cultures and Modernity
Women and Modernity
Art and Politics
Global Art History