A GLIMPSE | To art its practice
The exhibition shows master projects developed in the course Artistic Practice / Artistic Art Education Practice by Isa Rosenberger at the Institute for Education in the Arts at the Academy of Fine Arts Vienna.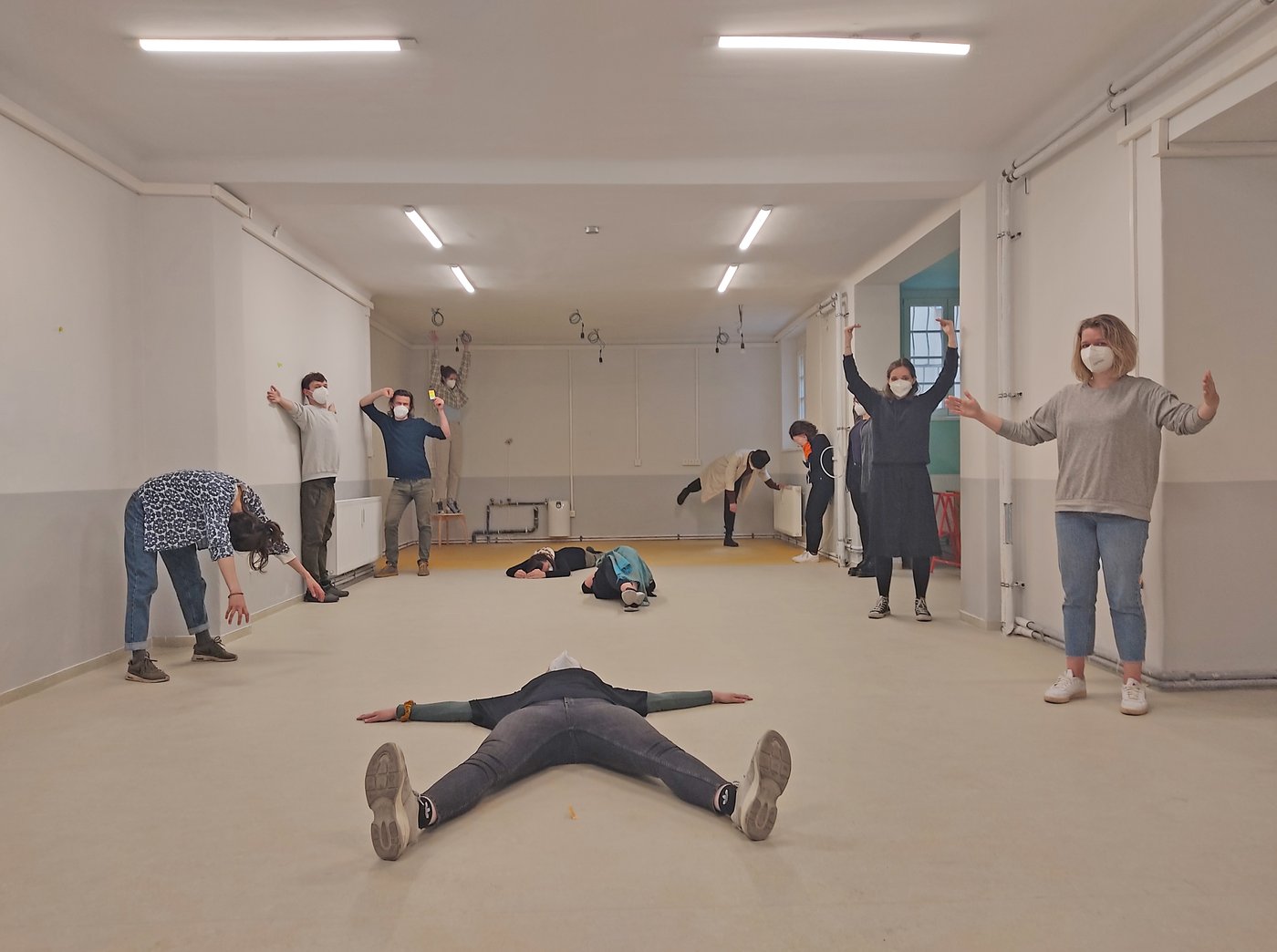 The course served as a platform for artistic dialogue and for artistic research: the presented projects, created in the current unstable social context of pandemic and repeated lockdowns, negotiate moments of crisis(es) and (possible) transformation.
The works range from body-related and performative works that reflect places of retreat, the new situation of being alone and feelings of (in)comfort (Luca Haibach, Viktoria, Hofer, Magdalena Kofler, Denise Sobota), to a vertical triptych of resistance in public space, a visual call to revolt against existing power relations, social injustice and the dictatorship of capital (Bernd Aichberger).
Remembrance, memory and forgotten and suppressed women's history(s) as well as the sad topicality of older feminist demands are discussed in the the works of Silvia Matzer, Lina Schöpfer, and Viktoria Ratasich, addressing craft traditions such as ceramics, crochet, embroidery, weaving, and the stories and connotations inscribed in these techniques.
A video and collages by Martina Špiranec recall the (creeping) death of minorities using the example of the Burgenland Croats.
Antonia Stangl's project addresses the network of relationships between city and country and Viktoria Angerer is dealing with our relationship to nature, which is characterized by contradictions. The ambivalent role of light in the city (keyword light pollution) is the focus of a video film by Magdalena Micoloi.
A participatory installation by Elisa Hutzinger allows visitors to take part in the design process of urban playgrounds. Sabina Zwickelstorfer's contribution, which was developed together with pupils, shows possibilities of sustainable material procurement in an artistic and educational context.
school context.
Ruth Krieger's installational drawings deal with the tension between dream and reality; Angelo Karaconji in his paintings is interested in the space between meaningful figuration and loose abstraction.
Accompanying program:
Feminist Cross-Stitch Workshop with Viktoria Ratasich.
Saturday, June 19, 15-17h
Limited number of participants*.
Saturday, June 19 and Sunday, June 20, 17h each:
Guided tour of the exhibition with artists present.
Limited number of participants*.
In accordance with Covid 19 regulations, please bring proof that you have been tested, vaccinated or have recovered.
Artists: Bernd Aichberger, Viktoria Angerer, Luca Haibach, Viktoria Hofer, Elisa Hutzinger, Angelo Karaconji, Magdalena Kofler, Ruth Krieger, Silvia Matzer, Magdalena Micoloi, Viktoria Ratasich, Lina Schöpfer, Denise Sobota, Martina Špiranec, Antonia Stangl, Sabina Zwickelstorfer