Finding Tools, Working on Ideas—Digital Didactics in Art Education—an Open Educational Resource for Art Education
Lecture by Sophie Lingg, Helena Schmidt and Franziska Thurner as part of the series #DIDAKTIK.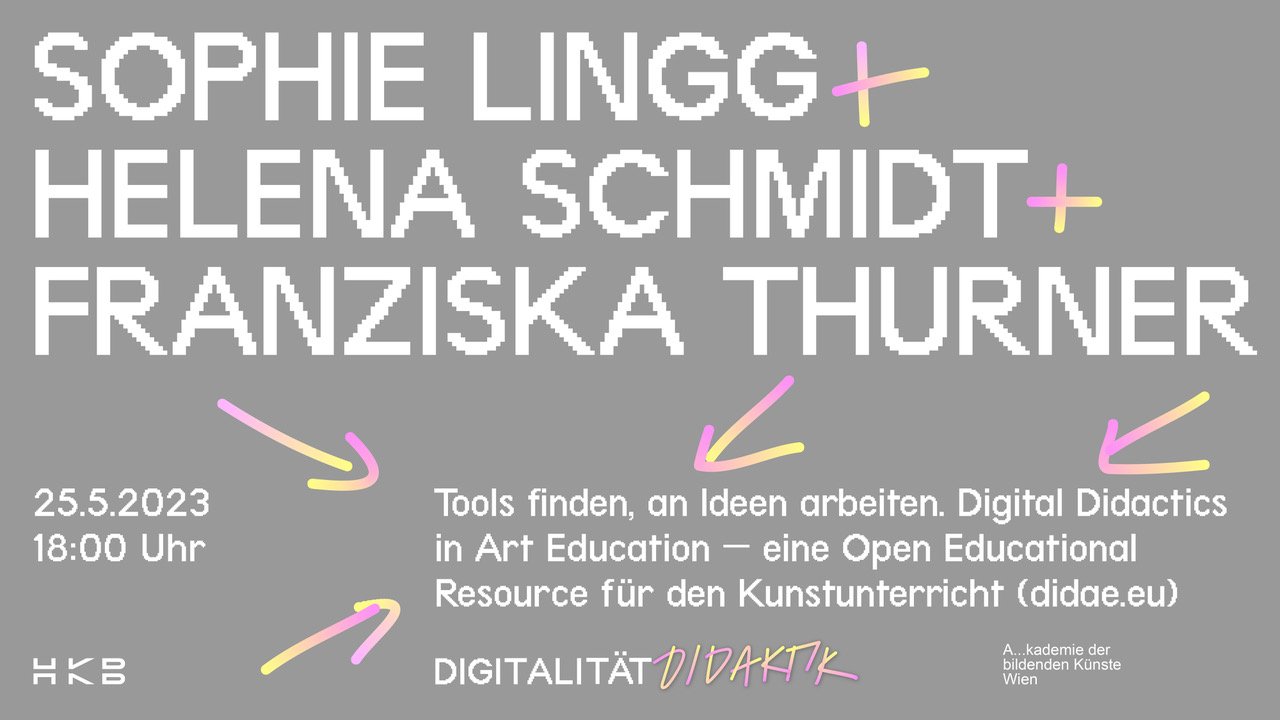 The lecture introduces the concept of Open Educational Resources (OER) as the basis for the Erasmus+ Digital Didactics in Art Education (DIDAE) project and its platform. Open Educational Resources are "teaching, learning, and research resources that reside in the public domain or have been released under an intellectual property license that permits sharing, accessing, repurposing—including for commercial purposes—and collaborating with others."
We start from the questions of digital justice, knowledge sharing and open resources, based on shortcomings in the current field of education that have been made evident by the pandemic and since then have taken on a whole new dimension. The presentation provides insights into the criteria for the selection of the project's DIDAE TOOLS (Selection and Classification of Digital Tools) and DIDAE IDEAS (Classroom Assignments) collected on the platform. The best-practice digital TOOLS (websites, apps and software) and connected work assignments represent a radically new approach to critical, emancipatory, intersectional, contemporary post-pandemic didactics of digitality in art education in relation to local and international educational policies.
A cooperation with the Art Education Department of the Bern University of the Arts (HKB)
Franziska Thurner is a media artist and Senior Lecturer at the Academy of Fine Arts Vienna and the University of Art and Design Linz. For the last ten years she has been exploring digital tools for artists and current issues of digital ethics and justice. She focuses on researching and testing new technologies and their usability for art and education https://katzekatzekatze.at. Under the name System Jaquelinde (with Hanna Priemetzhofer), interdisciplinary and collaborative works with digital & analog media have been created since 2005. In her digital photo series, Franziska Thurner also explores errors of algorithms https://franziskathurner.com.
Sophie Lingg (Vienna, Austria) experiments and researches on digitality, digital mass media and their use for artistic work and art education. Since 2019 Sophie teaches at the Academy of Fine Arts Vienna's Art and Education department, where she has been writing her dissertation on artistic and artistic-activist work on social media (dissertation supervisor: Elke Krasny). She is co-editor of the book Radicalizing Care: Feminist and Queer Activism in Curating (ed. Elke Krasny, Lena Fritsch, Birgit Bosold, Vera Hofmann and Sophie Lingg), published by Sternberg Press in 2021sophielingg.at.
Helena Schmidt is an art scholar and art mediator in theory and practice. She teaches at the Academy of Fine Arts in Vienna, where she completed her doctorate on the image concept of so-called "poor images" (according to Hito Steyerl) under the supervision of Elke Krasny. She also teaches and mentors at the Bern University of the Arts, where she was an assistant until 2019. Main fields of interest: Digital imagery, critical art, and design education, poor image art education https://helenaschmidt.com.