Conference on Art and Culture from the Ex-YU Artists, Curators and Cultural Workers in Austria.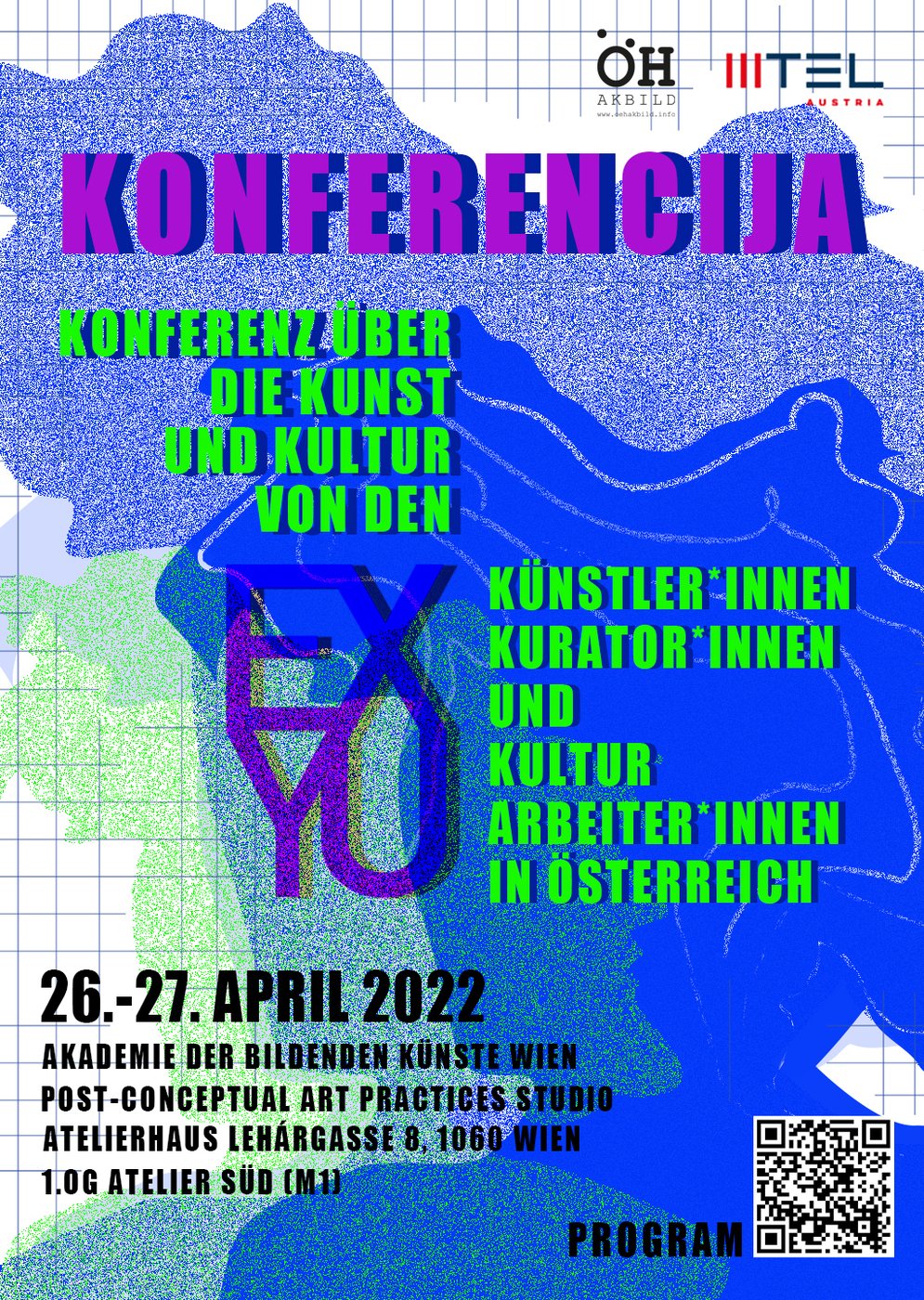 KONFERENCIJA is the first gathering of women* artists, curators, and cultural workers from the ex-Yu countries living and working in Austria, to examine, negotiate and discuss their art and activist practice from a socio-political perspective. The two-day event includes an exhibition, performance, book presentation, lecture, and workshop in a public space.
KONFERENCIJA is the cooperation of Mirjana Mustra with the Post Conceptual Art Practices Studio/IBK. The project is  part of the network D/Arts project office for diversity and urban dialogue.
Program:
Tuesday, 26. April, 2022

18 h KONFERENCIJA opening
EXHIBITION with Marija Šabanović, Milena Gajić, Negra Bernhard, Neda Nikolić, Aida Jakubović, Isidora Krstić, Anđa Živadinović, Bojana Novicic, Maša Đuričić, Đenana Hadžić, and Mirjana Mustra
19 h A Talk in between Jasmina Tumbas and Marina Gržinić on feminist performance politics in former-Yugoslavia.
Jasmina Tumbas is Assistant Professor, University at Buffalo/NY, USA. Tumbas is the author of "I am Jugoslovenka!" Feminist Performance Politics During and After Yugoslav Socialism, Manchester University Press, 2022.
20 h Music Performance
Sevdah of Lost Identity by Sanja Lasić
22 h End
Wednesday, 27.April, 2022
09:30 h Start of Day Two: Meet and Greet
10 h Lecture and Discussion
Jelena Jokić-Bornstein
YU.Go Girl: Transnational art and its role in the (re)construction of memory and identity in post-conflict societies. The case of the Bosnian female artists in Vienna.
11:30 h Performance Lecture
Nataša Mackuljak
On Historical Continuities between Radical Leftist Women's Actions and Feminist Performance Art in Former Yugoslavia
12:30 h Lunch pause
14 h Workshop
Do you hear me?  by Smirna Kulenović
17:30 h End
The exhibition will be open until 8. May 2022. To arrange your visit, please write to mirjana@mustra.art
IMPORTANT: To consider valid COVID-19 protective measures is mandatory. The measures are displayed on the academy's online portal.