Stay and tell: memory objects and narratives of appropriation. Tracing social change in text, photographs and patterns within personal archives
ÖAW | DOC-team
Ana de Almeida (Academy of Fine Arts Vienna), Lena Ditte Nissen (University of Art and Design Linz), Elif Süsler-Rohringer (University of Applied Arts Vienna)
Duration: 1.07.2022 – 30.06.2025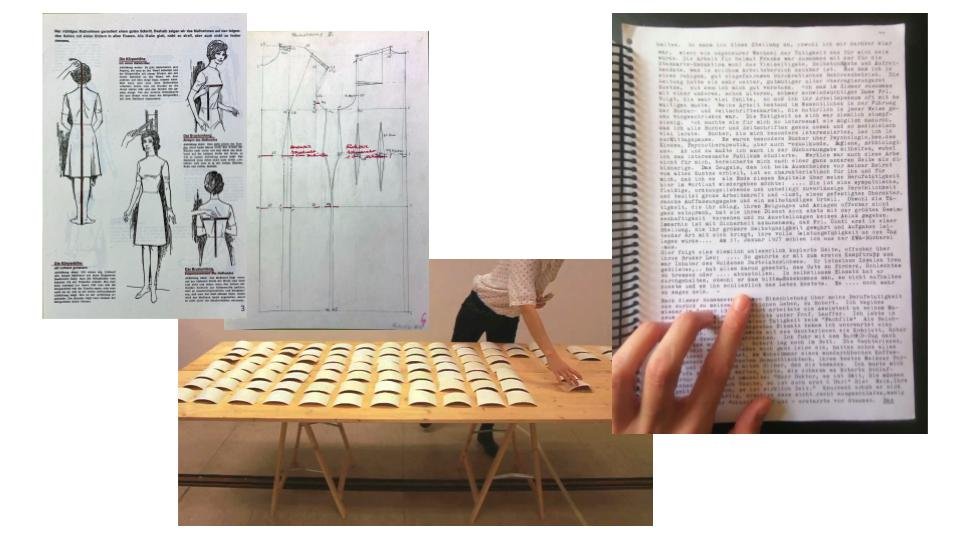 The collaborative research project of Ana de Almeida, Elif Süsler-Rohringer, and Lena Ditte Nissen crosses the borders between the disciplines of artistic research, cultural studies, and design history and theory. It deals with collective processes and experiences of remembering through family memorabilia and the operational mechanisms of the private archive. Through the study of the three research cases – women's role in National Socialism and its legacy; the 1974-1989 inter-revolutionary space between the Carnation and the Velvet Revolutions in Portugal and former Czechoslovakia; and the everyday appropriation of fashion in conjunction with the multiple entanglements resulting from labor migration between Turkey, Germany and Austria-– this joint project addresses the processes through which lived collective experiences of trauma, desire, and constitution of the self as Other are intergenerationally transferred. Furthermore, it reflects upon the role these transferred experiences play in the determination of identities of the collective subjects of postmemory.
Each research case is addressed by analysing a specific inscription medium from a media-anthropological and autoethnographic perspective. The first research object is constituted by the letters, diaries, and other writings of Camilla, the grandmother of researcher Lena Ditte Nissen. Camilla was a staunch National Socialist, daughter of Nanna Conti, the German Reich's leader of midwives, and sister of Leo Conti, who was the Reich Health Leader (Reichsärzteführer) of National Socialist Germany. The second object in focus is the photos of Ana de Almeida's father, José Almeida, who was a Portuguese student under a socialist scholarship program in former Czechoslovakia, between 1978 and 1987, and extends to photography collections produced and assembled by other Portuguese former students in the same country. The third case concentrates on paper patterns and their remnants as clothes/photos from an "insider" observation position. Süsler-Rohringer researches their individualization processes in Turkey, Austria, and Germany while focusing on "guest worker" families with tailoring/dressmaker backgrounds. Through this research, we investigate these textual, photographically, and commercial references in private and subjective narratives of flight, international movements of socialist students, and migration.
Furthermore, through the study of the interconnections between the three cases, this project aims to reveal and question social maps of a network where researchers interact with the process of inquiry through archival research and various empirical and performative methods. In our studies, we incorporate research at private and institutional archives with group analysis, interviews, and participatory observation, as the latter will also create a basis to investigate the past in the shifting context of the present. Nissen's method Deutungswerkstatt (engl. Interpretation Workshop), which is also connected to her artistic research, will create a common methodological ground for us to take a self-reflexive stance on our encounters gathered by (auto-)ethnographic processes. Thus, this overall methodology is strongly connected to our choice of research objects and our aim to reclaim their space in macro-political and historical perspectives, while challenging reductionism implemented in these processes.
To the project led by Ana de Almeida.