Matts Leiderstam | After the Dissertation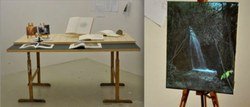 Lecture held in english language, presented in cooperation with the PhD in Practice , introduced and moderated by Tom Holert.
In 2006 Leiderstam was one of the first artists to obtain a PhD in Fine Arts under Sarat Maharaj at Malmö Art Academy. In his lecture Leiderstam will present some of his work. He will also talk about his doctoral research, the process and what implications it had on his artistic practice in some of his later projects. He will also give some of his thoughts about artistic research as such and what it may mean for the art education.
Matts Leiderstam (born in 1956) has repeatedly developed new perspectives on historical picture motifs and compositions in his installations. Two of his installations for Attitude and Canon refer directly to the works of Count Anton Lamberg-Sprinzenstein's (1740-1822) collection presented in the Gallery of Paintings.
In the context of the exhibition Attitude and Canon .