Martina Reinhart: Homages to Poets and Thinkers
An exhibition about fellow wayfarers and sources of inspiration by Martina Reinhart as part of the Academy Library's Wer A… sagt event series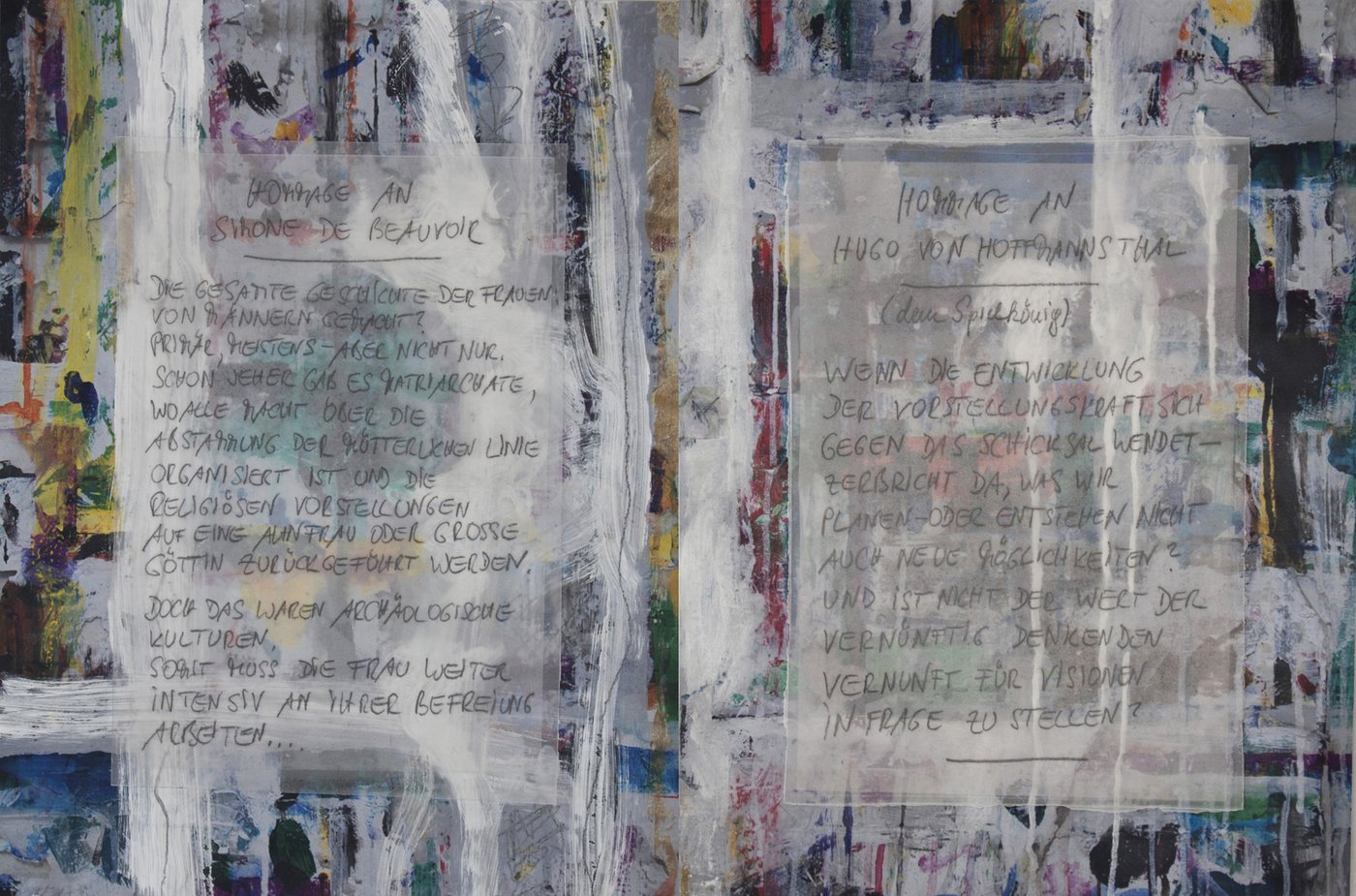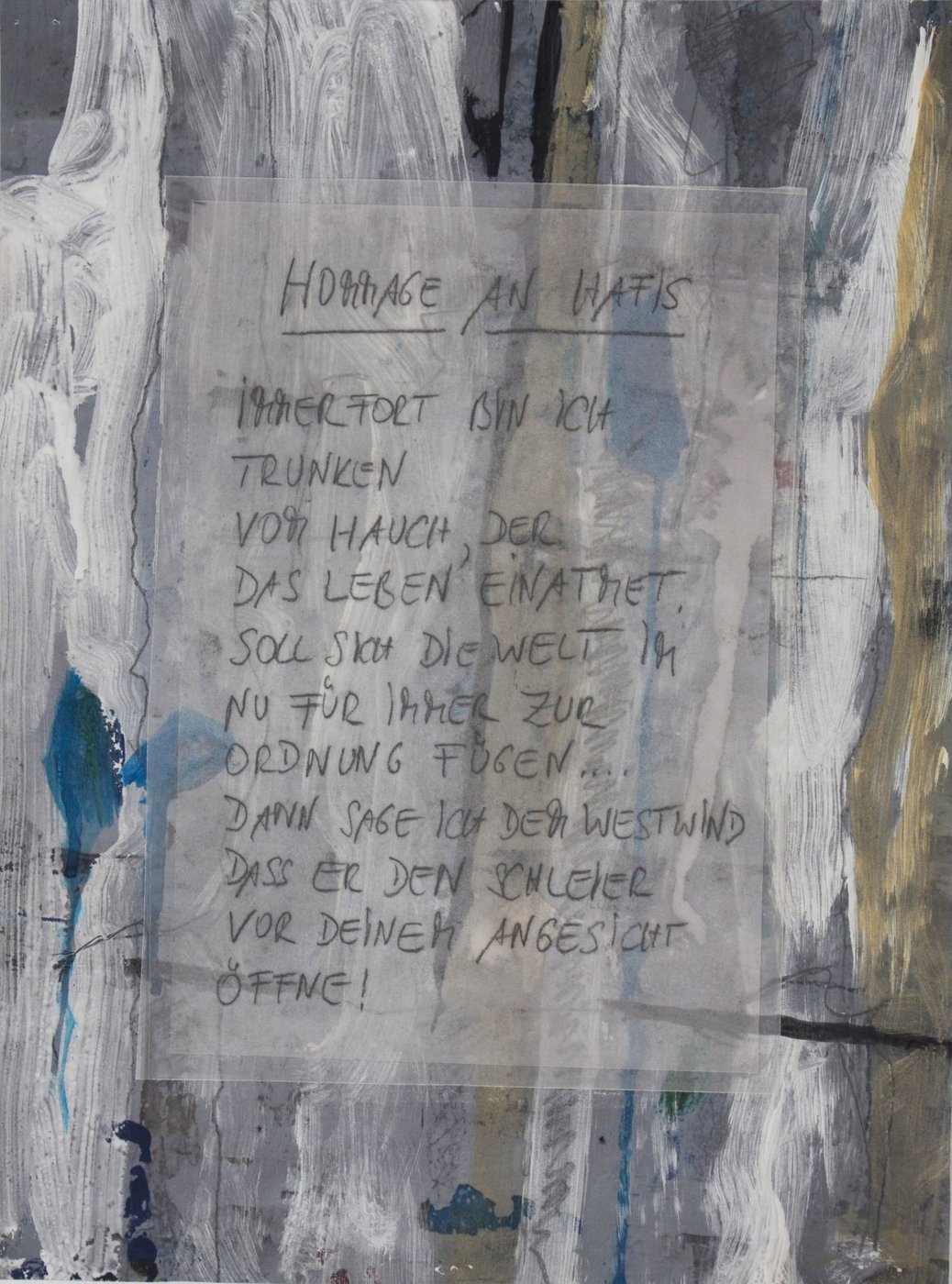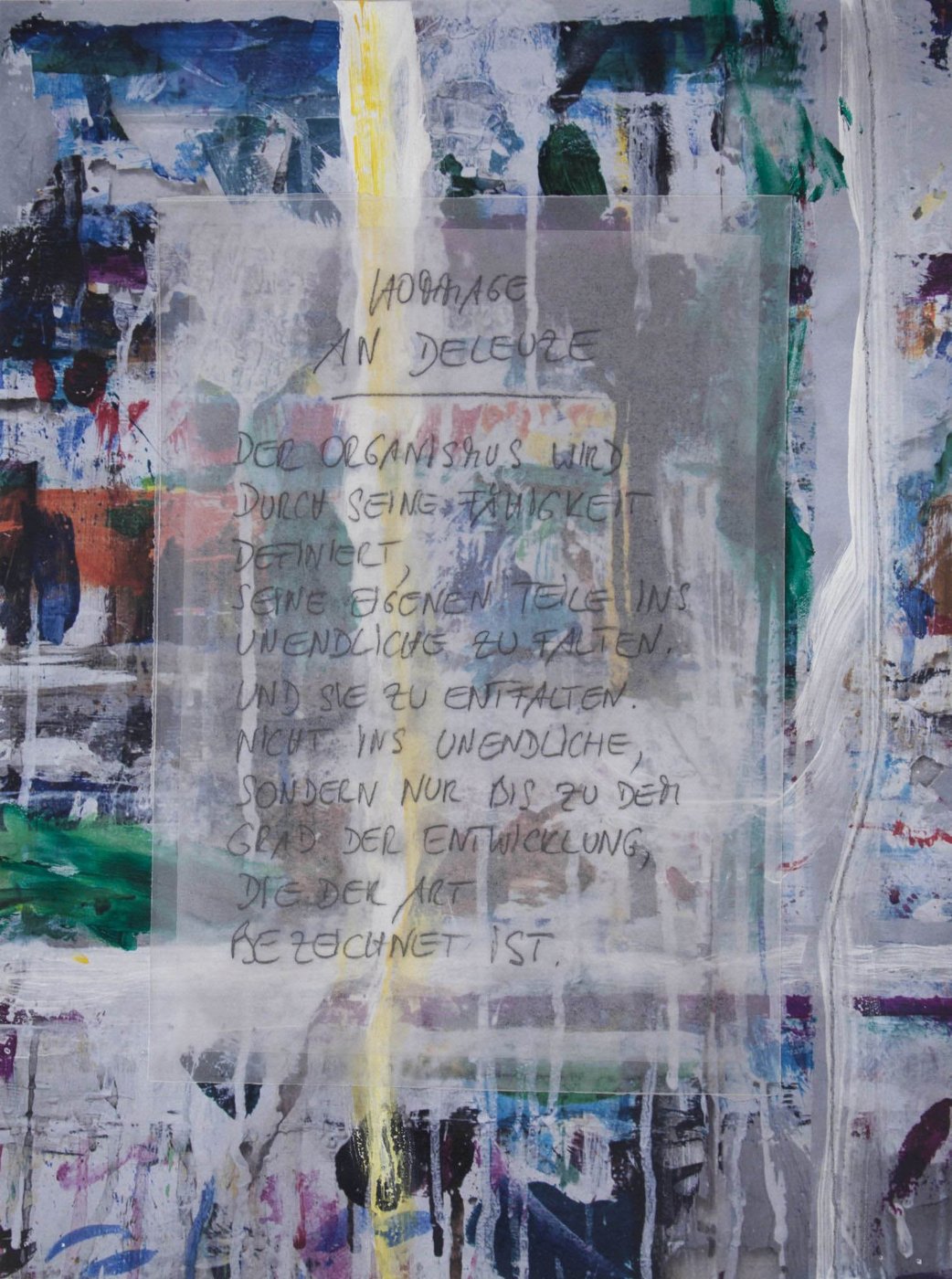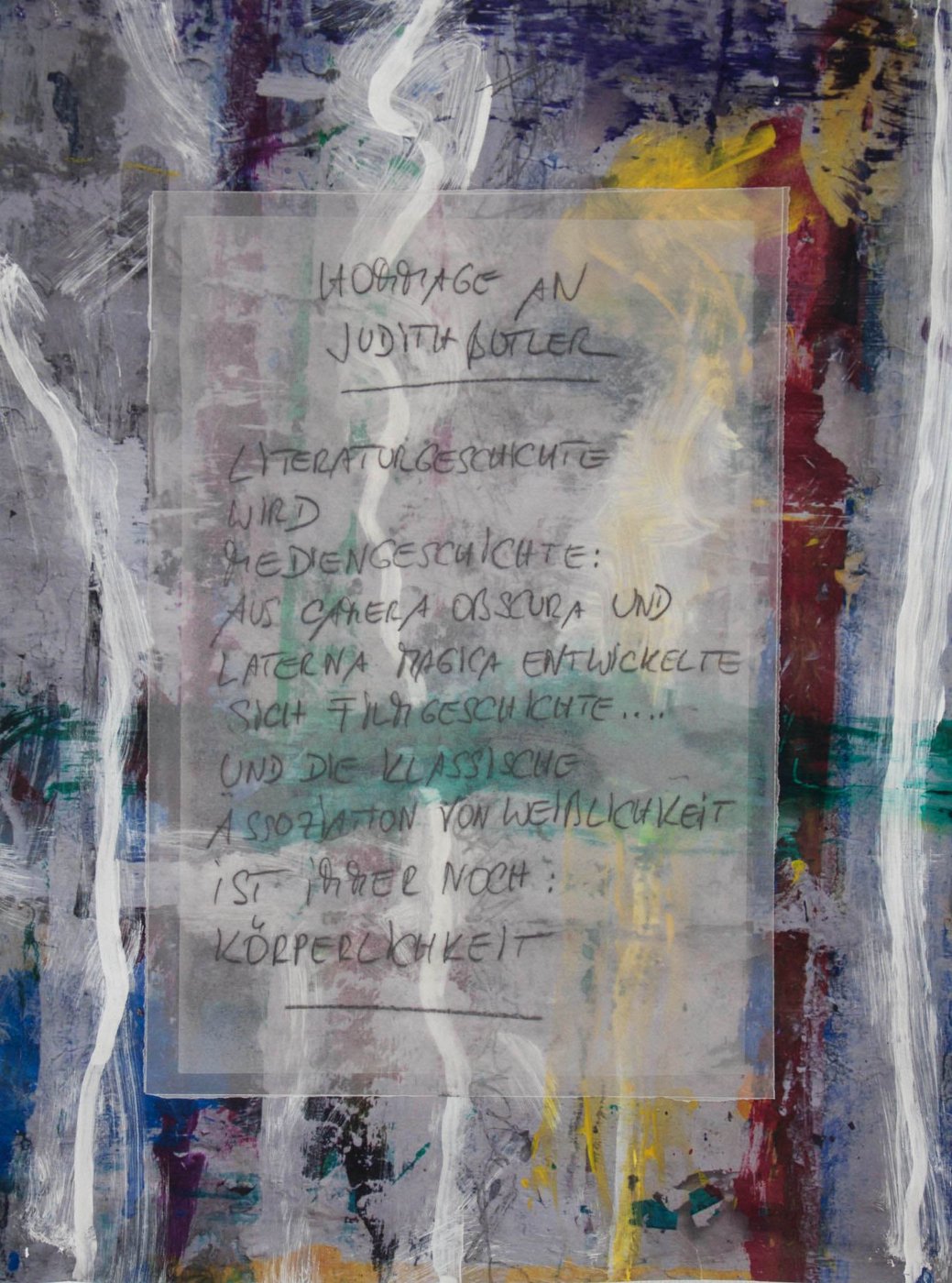 Homage to Hafis
All the time I am drunk
of the breath that
breathes life.
Should the world in
an instant forever bring
itself to order …
Then tell the west wind
to pull the veil
on your face away!
In her cycle Homages to Poets and Thinkers, comprised of nineteen works, Martina Reinhart brings together her visual-art oeuvre and the literary work, paying reverence to the authors whose texts have accompanied her throughout her life and inspired her artistic endeavors.
It is the human body and soul, the skin, the physique as such and the analysis of the psyche that are in the center of her reflections time and again. She has previously addressed the body, scars, the soul, the reception of woman, man, and child in society, social injustice, and most recently, communication in the Digital Age in numerous work series: bodies (1997), ups and downs (1999), Zaubermänner (2000), Scars (2002), Das Bild der Frau (2004), Knowledge and its structures (2010), InEquality (2015), K(C)ommunik(c)cation (2020).
In her Homages, Martina Reinhart lets us take a look behind the scenes and presents to us the poets and thinkers who accompanied her in her confrontation also with her own body, and whose theories and ideas provide the basis for the continuing development of her forms of expression and visual language. Examples to be named here are Simone de Beauvoir and Didier Anzieu, who, in his 'skin-ego' theory, saw the sensibility of self as the foundation for the development of (self-)reflective thinking.
In her artistic rendering, she uses mixed media: In line with Antonin Artaud and his Theater of Crisis, it is the spectacle of staging that moves to the foreground. The texts are thus not only given a painterly frame but rather fuse that frame into a theatric whole in the collages.
At the Academy Library, Martina Reinhart shows a selection of works from this cycle, about which a book was published under the same title by publisher Verlag der Provinz. She also presents, for the first time, her latest, twentieth work entitled Homage to H. C. Artmann.
Martina Reinhart graduated in painting from the Academy of Fine Arts Vienna and earned a PhD in philosophy at the Academy and the University of Vienna. Using a wide variety of techniques, she explores her focal themes in series of works that she shows in numerous exhibitions, domestic and international.
Martina Reinhart – Hommagen an Dichter und Denker
21 × 15 cm, 48 pages, num. col. ills., hardcover
ISBN: 978-3-99126-191-9, € 20,00
https://www.bibliothekderprovinz.at/
Opening of an exhibition about fellow wayfarers and sources of inspiration by Martina Reinhart as part of the Academy Library's Wer A… sagt event series

Exhibition opening

Schillerplatz/ University Library (Reading room, M7)

University Library

A performative finissage and a recital with Sylvia Unterdorfer on Martina Reinhart's fellow wayfarers and sources of inspiration as part of the Academy Library's Wer A… sagt event series.

Finissage and recital

Schillerplatz/ University Library (Reading room, M7)

University Library