The exhibition HITZE TAKES COMMAND will occupy the building of the Academy at Schillerplatz with a spatial installation from May 7 until May 28, which will also be the first public event after the general renovation.
PLEASE NOTE: In advance of your visit to the exhibition, a registration at the information point at Schillerplatz is necessary due to the current COVID-19 regulations. It is not possible to enter the building independently. Your data will be treated confidentially, stored securely and deleted after the 28-day period.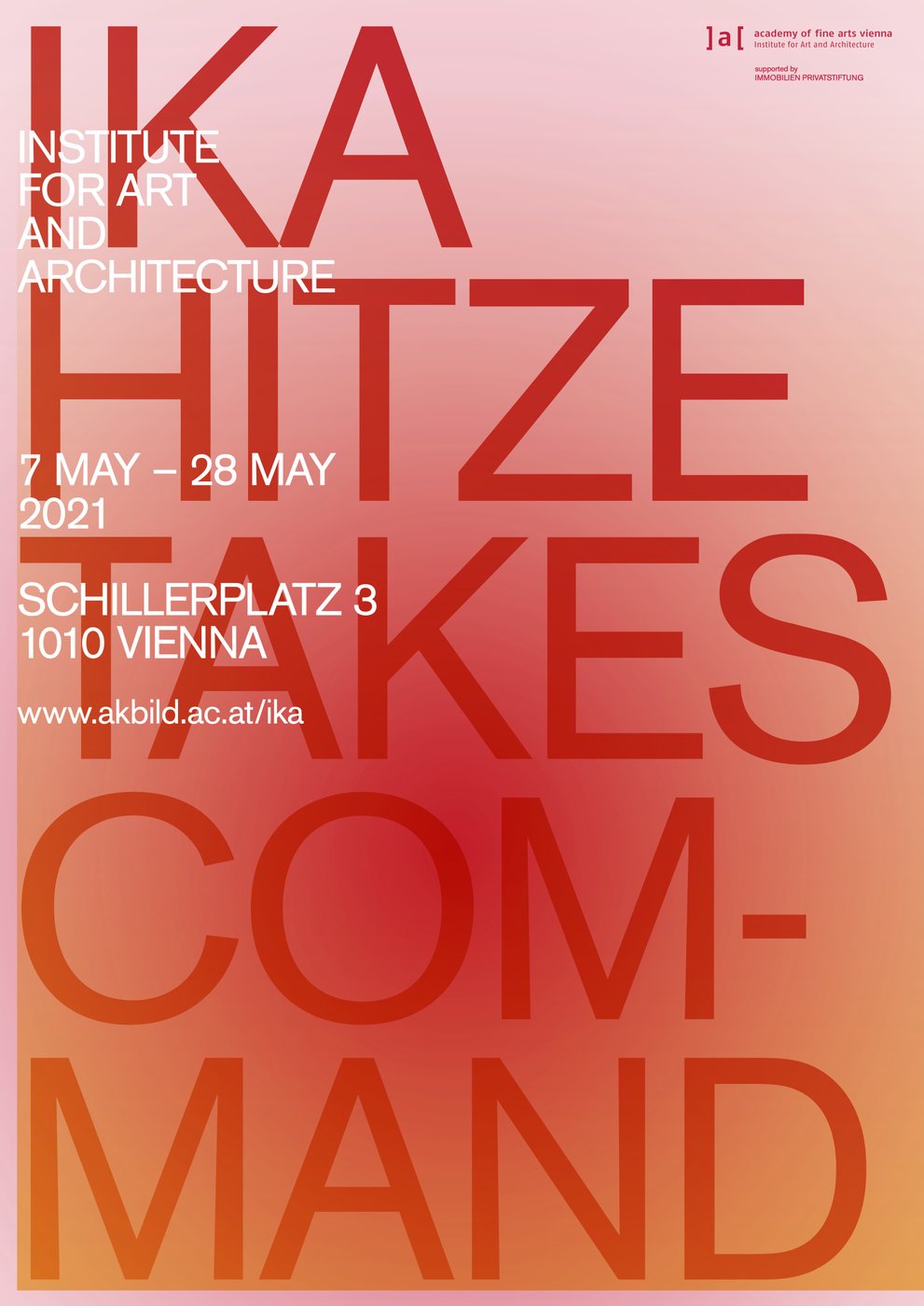 Digital opening via Zoom: 7 May  2021, 7.00 pm
Zoom-Meeting: https://akbild-ac-at.zoom.us/j/93185604963?pwd=UUtJVzdHSmxESWZ6bDRRRFFTbHFZZz09
Zoom-Meeting-ID: 931 8560 4963
Zoom-Kenncode: 0*1583
Johan F. Hartle, Rector
Ingeborg Erhart, Vice-Rector
Celestine Kubelka, Vice-Rector
Wolfgang Tschapeller, IKA
Exhibition team, IKA
Moderation: Students of the IKA
Dealing with COLD has so far been the dominant climatic condition for architectural design in Central European latitudes. HITZE, due to increasing climate shifts whose contours became visible in the past century and are now extremely critical, has now taken over this position. Architecture and urban planning are the focus of a competition for efficient, resource-saving contributions. Technological solutions aimed at maintaining our prevailing climatic and energy standards are expected. The maintenance of our accustomed lifestyles as such, especially with regard to climatic comfort, is not questioned. Instead of merely acting in a system-maintaining way, architecture and architects should assume a critical, opinion-forming role with regard to the way we live.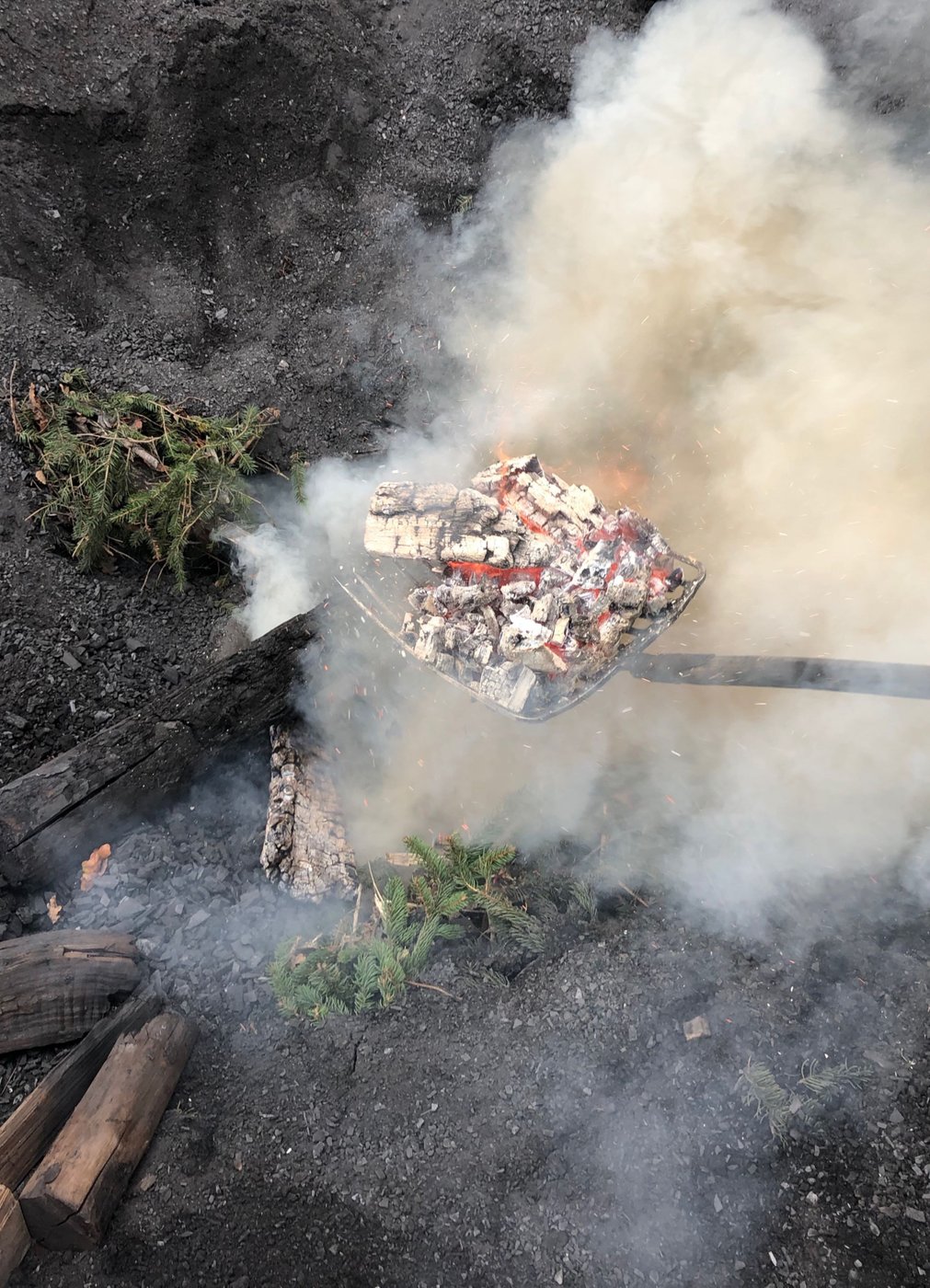 The students and teachers of the Institute for Art and Architecture (IKA) at the Academy of Fine Arts Vienna addressed this necessary paradigm shift as part of the annual theme HITZE TAKES COMMAND in the academic year 2019/2020. The focus of the investigations was the city of Vienna as a common field of observation and investigation. A systematic mapping of the local climate and particularly affected neighbourhoods commissioned by the city, the Urban Heat Island (UHI) Strategy for Vienna, is contrasted by IKA with projects from an architectural, artistic perspective.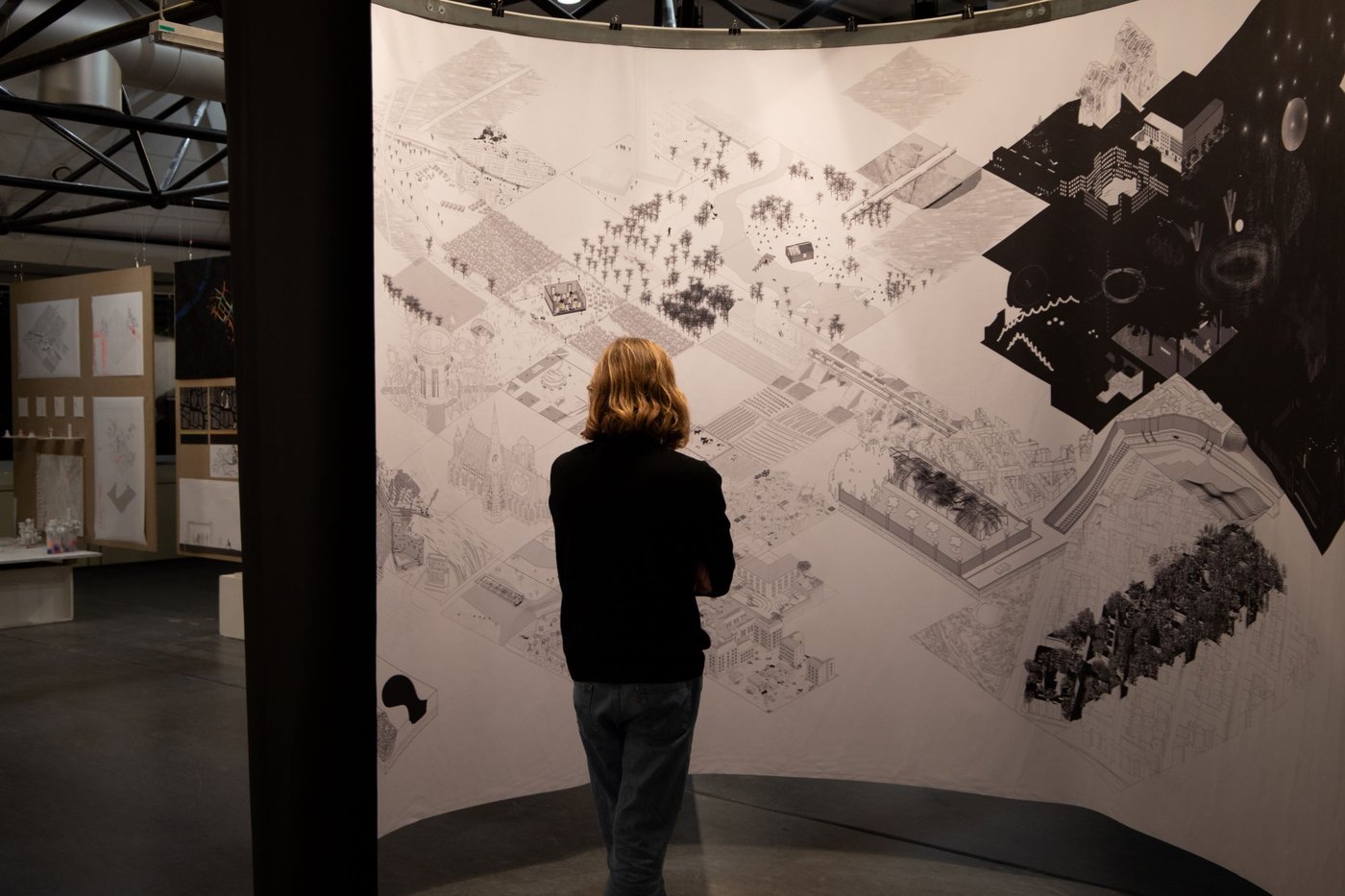 Based on specific questions, an extensive collection of projects and outlines of possible futures will be shown, which mutually reference each other, overlap thematically and emphasize mutual references as well as contradictions. In addition to the exhibition itself, the lecture series HITZE LECTURES will open up and discuss further perspectives.
As the site is still under construction, access is limited to a small number of people. Time slots start at full hour at the Schiller monument. Please note that barrier-free access is not possible. Please contact us for any questions at arch@akbild.ac.at .

The HITZE TAKES COMMAND project 2019/2020 is generously supported by IMMOBILIEN PRIVATSTIFTUNG.
Exhibition includes works of: Olivia Ahn, Antonia Autischer, Pia Bauer, Charlotte Beaudon-Römer, Veronika Behawetz, Philipp Behawy, Florian Berrar, Annika Böcher, Daniel Bracher, Marcella Brunner, Tejas Chauhan, Chiu Daron, Jákob Czinger, David Degasper, Chiara Desbordes, Christina Ehrmann, Martin Eichler, Lucas Fischötter, Elisabeth Fölsche, Lilli Gaigal, Maximilian Gallo, Yingpi Gao, Burak Genc, Jakob Grabher, Patricia Griffiths, Alexander Groiss, Christopher Gruber, Yoko Halbwidl, Paula Hattenkerl, Alice Hoffmann, Sara Hozzánková, Haruka Inari, Oana-Alexandra Ionescu, Jakob Jakubowski, Maya Karska, Alma Kelderer, Dilâ Kirmizitoprak, Alexander Klapsch, Ferdinand Klopfer, Felix Knoll, Martin Kohlberger, Diana Konovalova, Katerina Kunzová, Ji Yun Lee, Rachel Tsz Man Lee, Tsz Shing Liu, Lovisa Lorén, Armin Maierhofer, Valeriia Malysh, Lorenz Mang, Jonathan Moser, Diana Mudrak, Stepan Nesterenko, Nils Neuböck, Anna Orbanic, Mert Özkan, Lisa Theresa Penz, Maximilian Pertl, Zoe Pianaro, Lisa Maria Prossegger, Normunds Pūne, Larissa Raith, Ria Roberg, Moritz Schafschetzy, Helena Schenavsky, Wendelin Schlachter, Salome Schramm , Roxane Seckauer, Sebastian Seib, Roman Sost Quera, Ruben Stadler, Magdalena Stainer, Mona Steinmetzer, Sophia Stemshorn, Martin Sturz, Johanna Maria Syré, Marie Teufel, Johannes Wiener, Julia Maria Wiesiollek, Vincent Wörndl, Catherine Zesch.
COVID-19 prevention:
It is required to wear an FFP2 mask during the visit. Please keep a distance of at least 2 meters from other visitors. We kindly ask you to disinfect your hands when entering and exiting the building, disinfectants are provided.
The exhibition HITZE TAKES COMMAND will occupy the building of the Academy at Schillerplatz with a spatial installation from May 7 until May 28, which will also be the first public event after the general renovation.

PLEASE NOTE: In advance of your visit to the exhibition, a registration at the information point at Schillerplatz is necessary due to the current COVID-19 regulations. It is not possible to enter the building independently. Your data will be treated confidentially, stored securely and deleted after the 28-day period.


Digital Opening

Akademie der bildenden Künste Wien, Hauptgebäude, Schillerplatz 3, 1010 Wien, Aula

Art and Architecture