The project Drawing is political was initiated in 2021 as a contemporary academic approach to practice a barrier-free artistic education and practices. Initiated by Veronika Dirnhofer, Elke Krasny and Ruby Sircar.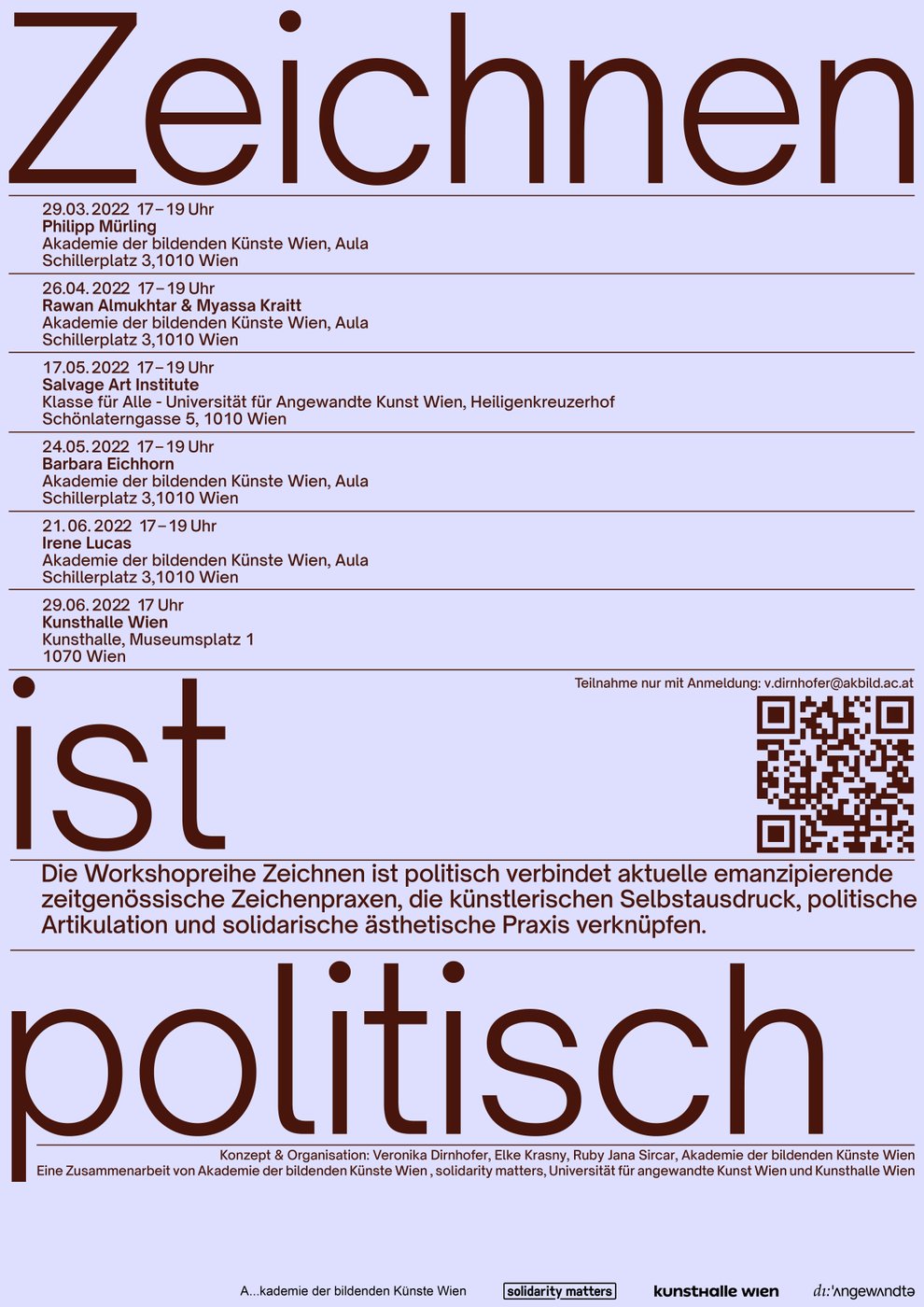 The project Drawing is Political was initiated in 2021 by us - Veronika Dirnhofer, Elke Krasny and Ruby Sircar. As a contemporary offer from the academy for an uncurated public and hurdle-free access to art education and practiced art. We deliberately chose the art form of drawing to create an expanded academic public, as this is a format that presents the fewest material hurdles and is quickly more practicable for a broad public. Furthermore, the series was created following the pedagogical legacy of Prof.in Gerda Matejka-Felden, whose practice was radically open access for a non-privileged public in the main building's Actsaal from the late 1950s: Drawing for All.
Access was resumed by Veronika Dirnhofer and Barbara Eichhorn in 2015 through the MORE Project - Drawing for Unaccompanied Refugee Youth. In 2021 we took the general situation and the need for creating new shared artistic spaces to initiate a workshop series with partner institutions (SOHO Ottakring, Kunstschule Wien, Universität für Angewandte Kunst, Kunsthalle and Solidarity Matters) to which we invited diverse international and local contributors each time. The series took place at different locations. The main venue and sponsor of the event was the Akademie der bildenden Künste.
Drawing is Political has not only opened the door to academic-artistic activities for participants and allowed insights into contemporary artistic discourses, but has also opened career doors for the teachers who have led individual workshops. In addition to the teachers who work at the various partner*institutions to drawing, alumna*, BIPoC positions, teachers with refugee experience, queer and feminist practices were invited, which otherwise do not find the opportunity to teach at the universities in Vienna. Not self-determined to be mapped there but often only in conversation or discussion about them. Some of them could use the practice and the network that is just emerging through Solidarity Matters and Drawing is Political as a basis for a longer-term career at one of the art colleges in Vienna.
This semester we will practice ecofeminist, alternative speaker agencies and crip drawing in cooperation with Solidarity Matters, University of Applied Arts/Class for All, WHW!/Kunsthalle Wien and toZomia. We are looking forward to active participants and the doors we can open together.
Informations and registration: v.dirnhofer@akbild.ac.at