Drawing is political with Shuvo Rafiqul
The series is perceived as an open drawing class. Drawing understood as a tool to act emancipatory and politically, to share intersectional art and everyday life experiences.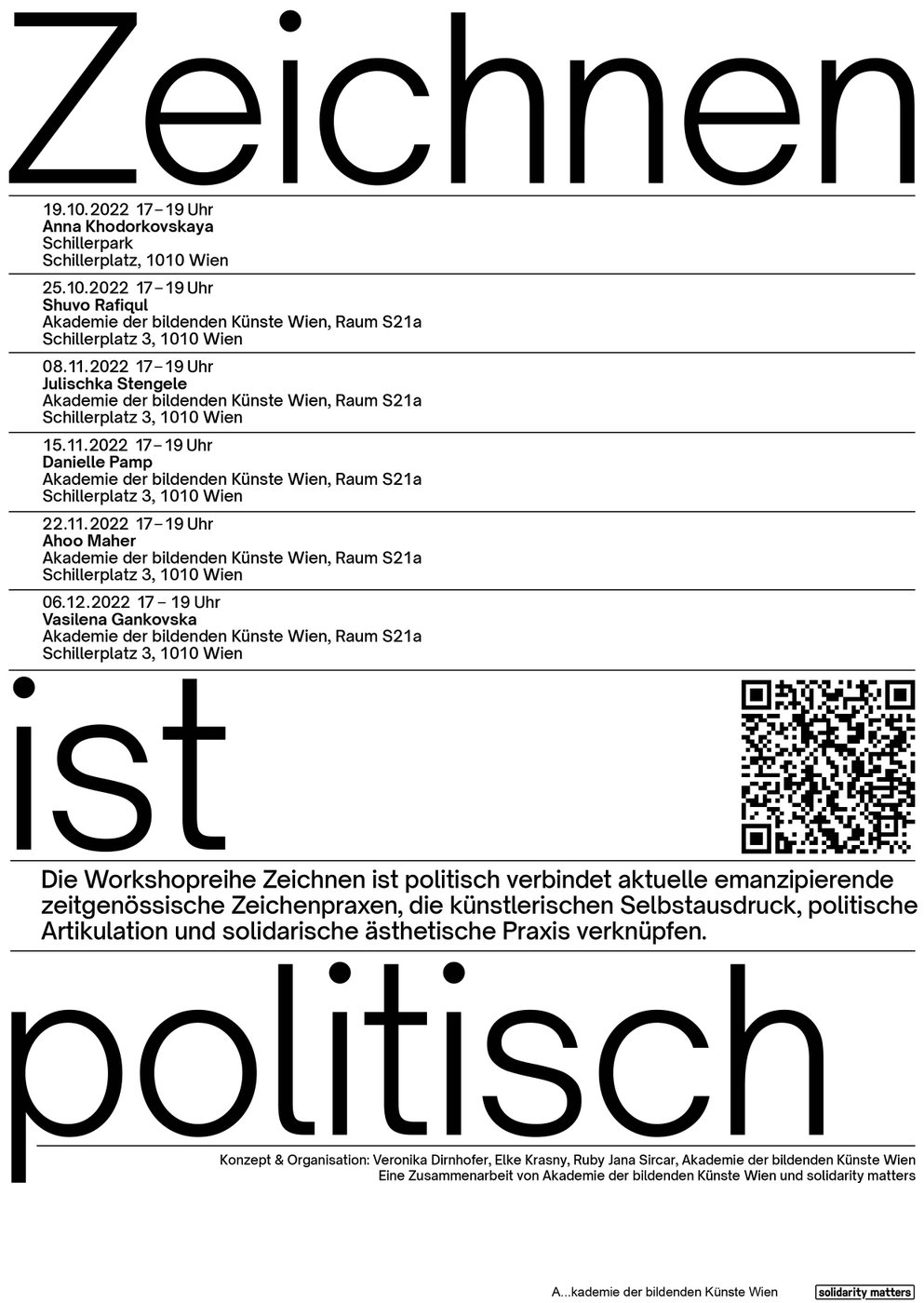 The series Drawing is Political is entering its third year. It successfully combines contemporary drawing practices which are on the one hand artistic self-expression, political articulation and on the other solidary aesthetic practice, with a commemorative perspective on the work of Gerda Matejka-Felden (1901-1984), the first woman to hold a professorship at the Academy of Fine Arts Vienna. Matejka-Felden did not only direct the Master School for Art Education, today's Institute for Art and Education, from 1946 onwards, but also initiated the artistic community college, from which the Vienna Art School emerged, and used the premises in the basement of the Academy of Fine Arts Vienna to teach drawing and painting to those who had been barred by the examination board from studying.
Drawing and graphic work offer the possibility of visual and political activity even in confined spaces and with few economic resources. There are many connections between drawing and the historical women's movement, as well as between the act of drawing and contemporary diversity politics. There is also an overlap here with Marie Lang in the Settlement Movement. She stood up for women's rights and was also committed to drawing courses as an emancipatory act for future teachers and for women workers. Likewise, in the person of Gertrud Kraus, who brought together dance, painting and drawing in her practice as a teacher, there is a connection to the radical aesthetics of modernist Viennese dance and modern Israeli dance culture.  
The history of self-empowerment through drawing, depending on the time and differing diverse groups who experienced public exclusion from academic practices, is currently being continued: Thus in 2015 Veronika Dirnhofer initiated the MORE initiative for unaccompanied refugee youths, or Amoako Boafo with drawing and painting lessons for traumatized BPoC women in cooperation with the Association for Women Artists Austria.
Conceived and organized by Veronika Dirnhofer, Elke Krasny, Ruby Sircar, Institute of Fine Arts and Department of Art and Education at the Institute for Art and Education at the Academy of Fine Arts, in cooperation with Solidarity Matters
Lectures in German and English