Un Paradiso Amaro / Bitter Paradise
Initiator and Curator: Valerie Habsburg
Curatorial support: Elke Krasny
Artists: Judith Augustinovič, Mika Aya Azagi, Anna Bochkova, Valerie Habsburg, Anka Lesniak, Sami Nagasaki
Film: directed by Valerie Habsburg, Anka Lesniak, Karl Martin Pold
Design: Judith Augustinovič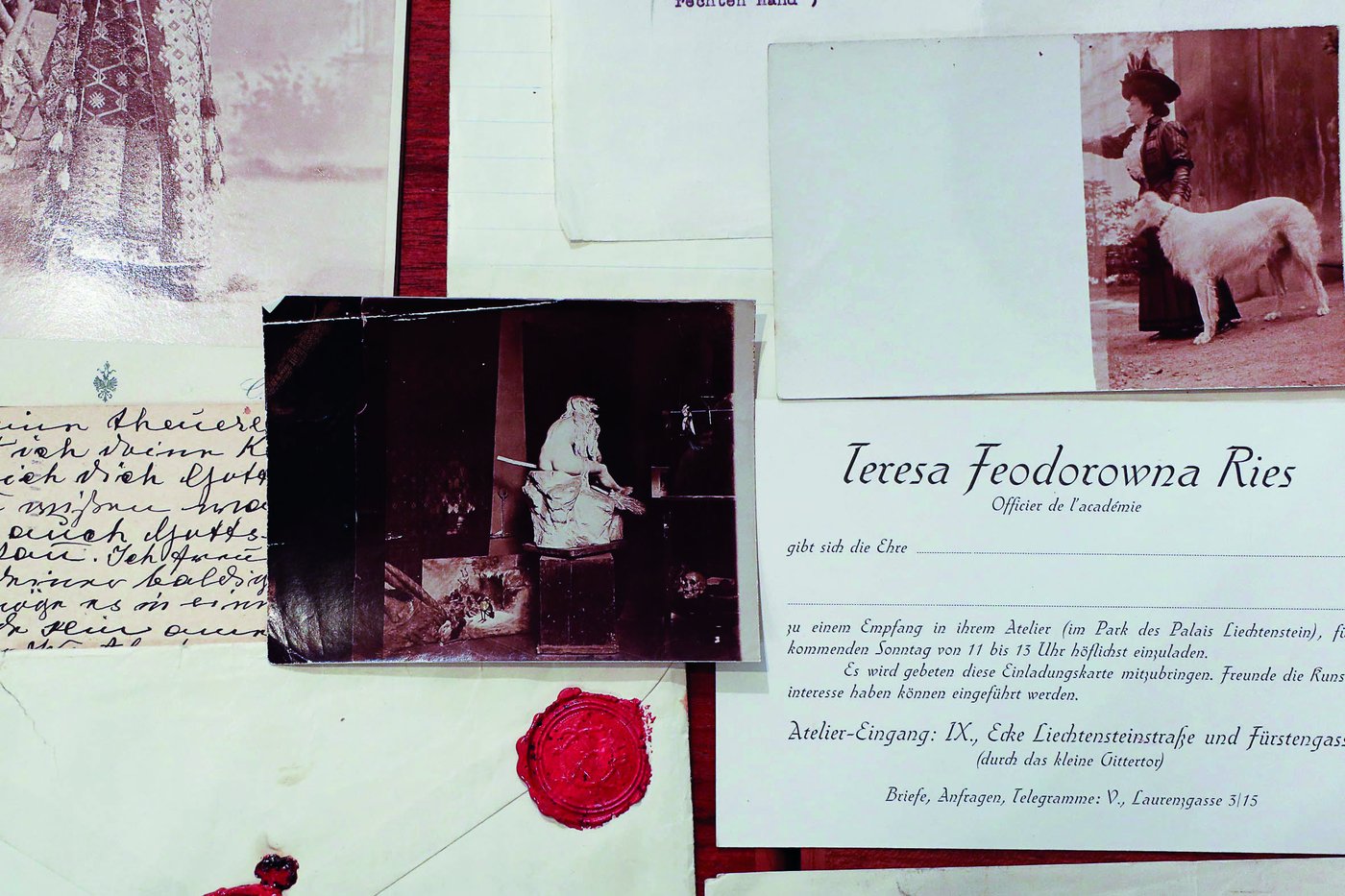 "How beautiful it would be if the fragrance of flowers had killed me in my sleep."
Teresa Feodorowna Ries, March 2, 1951, Lugano-Paradiso
How can we depict forgetting? How can being forgotten, which did not just happen, but is rooted in the politics of forgetting, become the subject of an exhibition? How can we depict the links between forgetting and disappearance, the physical/material disappearance of an artist's works? How can we exhibit works that are missing?
The exhibition Un Paradiso Amaro / Bitter Paradise is dedicated to remembering the erasure of the Jewish sculptor Teresa Feodorowna Ries. She was one of the few artists of her time whose works were shown in the Vienna Secession, the Venice Biennale and the Glass Palace in Munich, yet her work, life, and person have all been erased from art history. The epistemic violence with which artists were denied scholarly attention and thus erased from art history due to their ethnicity and gender is the motivation behind Un Paradiso Amaro / Bitter Paradise .
This exploratory exhibition traces the work, life, and person of Teresa Feodorovna Ries* through forgetting and remembering, using artistic, speculative, and critical analytical means, in which archival research and fiction are equally essential methods. Traces in her recovered estate, such as her handwritten will and a few preserved photographs are starting points for the exhibition, which gathers artistic/research works by Anna Bochkova, Valerie Habsburg, Anka Lesniak, Mika Azagi and Sami Nagasaki . Elke Krasny will support the artistic research process and exhibition conception from a cultural theory and curatorial point of view.
*Jewish sculptor Teresa Feodorowna Ries, born in Budapest on 30th January 1866, was a private student of Professor Edmund Hellmer at the Academy of Fine Arts in Vienna from 1895. At that time, it was not yet possible to enrol as a regular student as women were not admitted to the academy until 1920. Teresa F. Ries was already very successful during her years studying with Edmund Hellmer and quickly achieved international renown. She was one of the first sculptors to exhibit her work at the Künstlerhaus in Vienna as early as 1896. Exhibitions at the Secession, participation in the World Exhibitions of 1900 and 1911 and other international exhibitions soon followed. Teresa Feodorowna Ries wrote her autobiography "The Language of Stone" around 1928 – before the Second World War and long before anyone could imagine that many of her works would be expropriated and destroyed by the National Socialists. She lived through both world wars and never returned to Vienna after her escape in 1942. Many of her works have since disappeared, some have survived. A further document in the academy archives is significant in this context – her application for a professorship at the Academy of Fine Arts in 1931.
Initiator and Curator: Valerie Habsburg
Curatorial support: Elke Krasny
Artists: Judith Augustinovič, Mika Aya Azagi, Anna Bochkova, Valerie Habsburg, Anka Lesniak, Sami Nagasaki
Film: directed by Valerie Habsburg, Anka Lesniak, Karl Martin Pold
Design: Judith Augustinovič

Opening

Schillerplatz

Exhibit Studio