Birgit Jürgenssen Prize 2005 Awarded to Marlene Haring
Award ceremony: 23 April 2005, 6.00 pm,
exhibition rooms of the Academy of Fine Arts Vienna
Party in cooperation with Vienna Art Week
starting at 8.00 pm, auditorium of the Academy of Fine Arts Vienna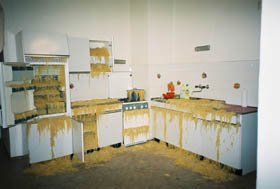 Award ceremony
23 April 2005, 6.00 pm, exhibition rooms of the Academy of Fine Arts Vienna

Welcoming speech: Stephan Schmidt-Wulffen, Rector of the Academy of Fine Arts Vienna
Ceremonial address in memory of Birgit Jürgenssen: Peter Kogler, Professor for Fine Arts and Digital Media, Academy of Fine Arts Vienna
Eulogy for the award-winner: Brigitte Felderer, curator, cultural theorist, University of Applied Arts Vienna
Presentation of the award: Franz Morak, Secretary of State for the Arts and the Media

Party in cooperation with Vienna Art Week
starting at 8.00 p.m., auditorium of the Academy of Fine Arts Vienna

Presentation of works by the Birgit Jürgenssen prizewinner 2005
24 and 25 April 2005, exhibition rooms of the Academy of Fine Arts Vienna, 11.00 a.m. - 6.00 p.m., free admission
As a teacher and member of various academic boards, Birgit Jürgenssen was closely bound up with the Academy of Fine Arts Vienna and, throughout many years, had a determining influence on the institution. From the early 1980s on, she was involved in establishing an interdisciplinary platform forging a link between painting and photography in the context of the master class of Arnulf Rainer and, subsequently, that of Peter Kogler. Until her untimely end, the relationship and contact with her students remained a crucial concern for her as a teacher.

For her work as an artist which, going far beyond the boundaries of a single medium, comprises such different forms of expression as drawing, performance, photography, video, and objects, Birgit Jürgenssen received the Federal Chancellery's award in recognition of her merits as a photographer shortly before her death. She could not be present at the award ceremony, and it is thanks to her partner Hubert Winter's wish that the amount of 11,000 euros awarded to her was donated to the Academy of Fine Arts Vienna as a prize for students.

According to an agreement between the Federal Chancellery, the Academy of Fine Arts Vienna, and Hubert Winter, the Birgit Jürgenssen Prize amounting to a sum of 2,000 euros will thus be awarded in remembrance for the artist for the second time this year. It is awarded annually to a student of the Academy of Fine Arts Vienna for her/his achievements in the media sphere, taking works of artistic photography, video and (digital) media art into special consideration.

The jury, which comprises Brigitte Felderer, Peter Noever, and Peter Kogler, has unanimously decided to award this year's Birgit Jürgenssen Prize to Marlene Haring. The deciding factor for the decision was that the young artist does not rely on any formalist approaches in her work or limit herself to one medium but rather employs performance, happening, photography, video, etc., reflecting trends, contents, and strategies of today's art world and translating these into her own works after endowing them with a new and subversive dimension. One of her most recent projects, "Heute bleibt die Küche kalt, wir gehen in den Wienerwald," should be especially mentioned here: the photo project turns a fitted kitchen with enormous amounts of spaghetti into a both ironic and oppressive vision of banal everyday life - it is no coincidence that its title reminds us of Kippenberger's witty use of language and definitions.

The prizewinner has developed an independent position evincing a great degree of attention for the rules of art and the everyday world and an aesthetical competence focusing on the crucial questions concerning the criteria for social closeness and distance, body and mind, sex and gender in her multi media strategies - always doing so in visual languages and body techniques that "stay tuned" and do not aestheticize their subjects.

Marlene Haring, born in Vienna in 1978. Studied at the Chelsea College of Art and Design London and the Academy of Fine Arts Vienna, part of the duo formation "Halt+Boring" from 1999 to 2003.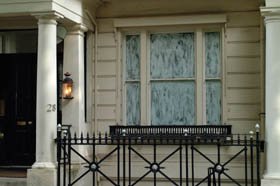 An installation by Marlene Haring is presented as part of the group exhibition "SCHÖNE GRÜSSE KAPFERANDERLEHARING" including works by Harald Anderle and Franz Kapfer in the Bétonsalon of the MuseumsQuartier, quartier 21, from 8 to 24 April 2005.