Eva Blimlinger elected new Rector
Announcement from the University Board, April 20, 2011
In the course of the search proceedings for filling the position of the Rector, Eva Blimlinger has been elected new Rector of the Academy of Fine Arts Vienna on the basis of the Senate's triple recommendation in today's meeting.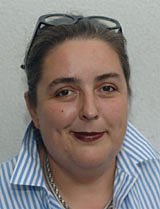 According to the Education Act (UG) of 2002, she will take up office for four years as of October 2011 following the positive conclusion of the contract negotiations.
Mag.ª Eva Blimlinger, born in Vienna in 1961, studied history and German languages and literature at the University of Vienna and has been working freelance in the fields of art, culture, education, and research. She is the author of numerous publications and has been teaching at various Austrian universities. She set up the Public Relations Department of the University of Applied Arts as whose head she served from 1991 to 1999. After managing the EU scholarship program "Premiere" for the University's graduates from 2002 to 2004, she was appointed director of the Rector's nerve center for the coordination of projects and process management for art and research sponsorship. After working as research coordinator of the Austrian Republic's Historical Commission from 1999 to 2004, she has been coordinating expert of the Commission for Provenance Research of the Austrian Federal Ministry of Education, Arts and Culture since 2008.
Mag. Dr. Alfred Brogyányi
Chair of the University Board