Entrance examination Master in Architecture for study year 2015|16
Online Registration: 04.05. - 22.05.2014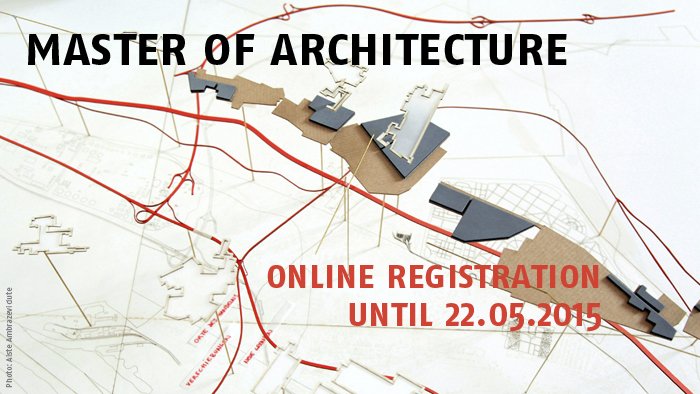 In order to registrate the a pplicant is asked to fill in the online application form; applicants will get a reply by eMail.
27.05.2015, 9 am - 4 pm
Submittal of application material including a bound portfolio with work samples. ATTENTION: The deadline designates the reception date of the application material, not the postal stamp. Applicants are responsible to guarantee the timely arrival of their material.
02.06.2015
The entrance jury reviews the applicants work and selects a shortlist to be invited for a personal interview. Official announcement of the shortlist earliest at 6pm.
Interview: personal interview wi th the entrance jury and discussion on submitted work on following days:
06.07.2015, starting 9 am
07.07.2015, starting 9 am

Address for applications:
Following application materials have to be submitted until 27.05.2015 to the following address:
Akademie der bildenden Künste Wien
Institut für Kunst und Architektur
Secretary, 2. OG. R213
Schillerplatz 3
1010 Wien
Applications are to be labelled with "MArch application". Application materials:
online registration

letter of intent
Curriculum Vitae (CV)
Proof of German language proficiency: Level B2 (copy)
Certified copy of your Bachelor degree
Two letters of recommendation (academic and/or professional)
Bound portfolio with your work
Portfolio: the portfolio should contain personal projects and work samples as also your final bachelor project. In case your Bachelor project is not finished by May 27 th, 2015, please hand in a preview of the work. Please bring your finalized bachelor project to the interview. The portfolio should not exceed A3 format and be bound. Please label the portfolio with your name and the online registration number.
Letter of intent: in a text of max. one A4 page you should state your motivation and interests to continue your studies in the Master Program for Architecture at the Academy of fine Arts Vienna.
Language Competency: Please be aware that you have to have proof of your knowledge of the German language (Level B2) before admission but latest before registration. www.akbild.ac.at/portal_en/studies/studieninfos_en
Upon admission the study department needs to receive the required documents. www.akbild.ac.at/portal_en/studies/studieninfos_en
After the application procedure all application materials and portfolios have to be picked up until 4 weeks after the entrance interviews are completed. No application materials or portfolios will be returned by the IKA via post or kept beyond the end of the semester.