Master in Critical Studies | Call 2020
Re gistration online from February 17 until March 9, 2020.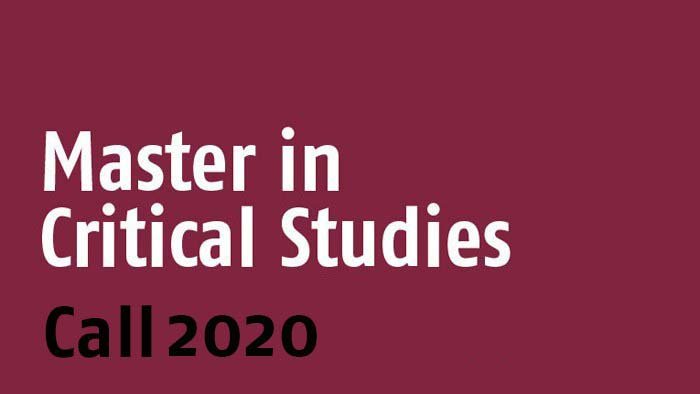 Sub m i ss i on of the examination assignment online:
from February 17 until March 9, 2020.
Review of t he assignment by a commission:
March 11 until March 24, 2020.
Applicants who are invited for a personal interview / oral examination will be notified by email on March 27, 2020.
E xamination interviews o f the invited applicants with the commission:
April 27, 2020, from 9 a.m. to 5 p.m. at the Institut für Kunst- und Kulturwissenschaften (Institute for Art Theory and Cultural Studies), room B4.25.5. During the interview,  the commission will also evaluate your language skills (German on B2 level is required).
The interviews take place in small groups of two to four applicants. You can decide whether you want to conduct the interview in German or English. You will be asked to briefly introduce yourself and outline your proposed project before the commission (please be very brief and keep this presentation to a maximum of five minutes), and shortly explain your decision to apply for the Master in Critical Studies. Afterwards, members of the commission will ask you a few questions regarding your application.
The commission will decide who is admitted to the study program by April 29, 2020. You will be informed about the results by e-mail. Please understand that in the event of a negative decision, the jury will not be able to justify it.
E xamination Assignment:
Please sketch an artistic-academic project that you could imagine to realize as a Master's thesis at the end of the program. This project should combine scholarly and artistic components in an interdisciplinary manner. Explain which research methods you would like to use, whether and how you would like to work on which humanities and cultural studies questions, which artistic techniques and realization modes could be used. Which social contexts could your project be relevant in? Do you have a specific audience in mind?
L e n gth:
Please write no less than 4,000 characters and no more than 10,000 characters.
F orm:
Use your own words but define your terminology. You are not expected to apply a specific academic or artistic jargon. State the reasons for your decisions.
L anguage:
Your text can be written in either German or English.