OUT NOW! Learning sexual consent
The volume Learning sexual consent - Theoretical, pedagogical und artistic perspectives on a missing concept in sexuality education presents theoretical and artistic contributions on the topic of sexual consent and offers pedagogical concepts for school, teacher education and youth work. Language: German

Maria Dalhoff, Stefanie Hempel, Zeynep Önsür-Oluğ, Bianca Jasmina Rauch und Marion Thuswald (eds.)
Further information: https://imaginingdesires.at/coming-soon-sammelband-zu-einvernehmlichkeit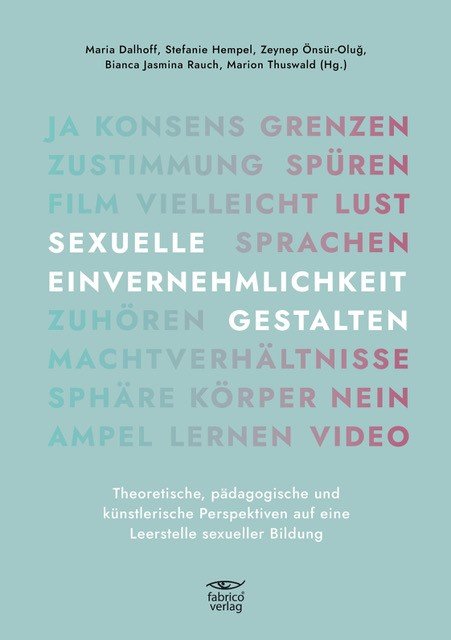 The volume is one result of the research projects Imagining Desires und Reflecting Desires : www.imaginingdesires.at at the Institute of Education in the Arts.
Inhalt:
Sexuelle Zustimmung und Einvernehmlichkeit sind bisher keine zentralen Themen sexueller Bildung. Die vorliegende Publikation setzt bei dieser Leerstelle an und stellt theoretische, pädagogische und künstlerische Zugänge zur Auseinandersetzung mit sexueller Einvernehmlichkeit in Schule, Lehrer:innenbildung und außerschulischer Bildungsarbeit vor.
Gegenwärtige Debatten um sexualisierte Übergriffe und Gewalt betonen insbesondere  die Notwendigkeit von Präventions- und Interventionsarbeit. Der vorliegende Band geht darüber hinaus, indem er die Frage nach der Gestaltung von Einvernehmlichkeit als wichtigen Aspekt sexueller Selbstbestimmung ins Zentrum rückt.
Die Beitragenden des Sammelbandes forschen nach Zugängen, die konsensuale, grenzwahrende und kooperative Begegnungsformen im Bereich des Sexuellen stärken. Über theoretische Texte, Gespräche, Filmanalysen, kunst- und sexualpädagogische Methoden sowie künstlerische Beiträge werden Möglichkeiten aufgezeigt, sexuelle Einvernehmlichkeit im Rahmen sexueller Bildung zu thematisieren. Die kunst- und sexualpädagogischen Konzepte legen den Schwerpunkt auf die Arbeit mit bewegte Bildern wie Coming-of-Age-Filme und Erklärvideos, anhand derer Auseinandersetzungen mit Fragen der Aushandlung und Entscheidungsfindung in sexuellen Interaktionen und intimen Beziehungen angeregt werden können.
Published June 2021 by fabrico / Hannover
Layout and graphics: Franzis Kabisch
Extract (German): https://www.fabrico-verlag.de/bookshop/einvernehmlichkeit/