Academy Auction 2023: Bidding now possible!
The Academy Auction 2023 is online since today on www.dorotheum.com/akbild! Bids can be submitted until 20 January 2023, the proceeds will support students in precarious situations students in precarious living situations as well as the associations tralalobe and solidarity matters, which take care of refugees in Austria.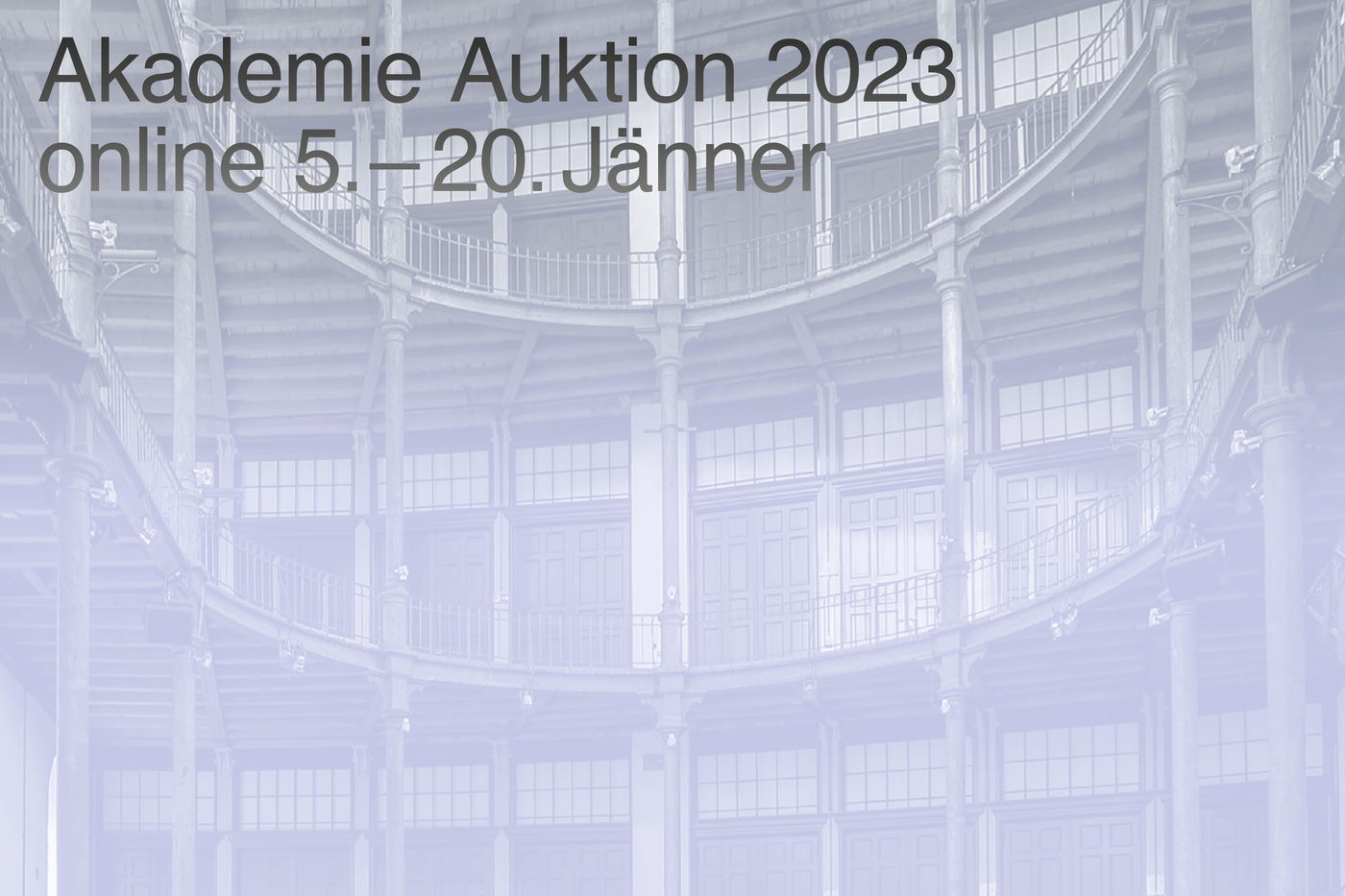 The donated artworks will be on display from 18 - 20 January 2023 in the of the Atelierhaus of the Academy in Lehárgasse, half of the purchase price is tax-deductible. All details can be found on our website and on Instagram.
The Academy of Fine Arts Vienna would like to thank the numerous artists who have once again donated high-quality works of art this year:
Irene Andessner, Iris Andraschek, Simone Bader, Nana de Bary, Sarah Bildstein, Amoako Boafo, Catharina Bond, Gilbert Bretterbauer, Götz Bury, Marie-Sophie Buxbaum, Wolfgang Capellari, Clegg & Guttmann, Gunter Damisch, Paul DeFlorian, Verena Dengler, Veronika Dirnhofer, Ahu Dural, Thorben Eggers, Barbara Eichhorn, Theresa Eipeldauer, Titanilla Eisenhart, Till Exit, Werner Feiersinger, Benjamin Feldgrill, Gernot Fischer-Kondratovitch, Andreas Fogarasi, Dietmar Franz, Jens Fröberg, Johannes Gierlinger, Lena Goldsteiner, Julian Göthe, Sabine Groschup, Mona Hahn, Lena Rosa Händle, Caroline Heider, Ursula Heindl, Johannes Heuer, Simon Hirtz, Lukas Hochrieder, Doris Theres Hofer, Julia Hohenwarter, Barbara Holub, Michael Horsky, Judith Huemer, Samuel Kain, Clemens Kaletsch, Barbara Kapusta, Luisa Kasalicky, Josef Kern, Anna Khodorkovskaya, Miriam Khouri, Markus Kircher, Darina Kmetova, Karo Kuchar, Malgorzata Kugler, Hannahlisa Kunyik, Nikolaus Lapuch, Farshido Larimian, Maria Legat, Franziska Maderthaner, Pavlo Makov, Sissa Micheli, Jelena Micić, Victoria Morgenstern, Jöran C. W. Möller, Christian Murzek, Natalie Neumaier, Saskia Te Nicklin, Johannes Niesel-Reghenzani, Florian Nitsch, Wolfgang Obermair, Peter Obermoser Sojer, Maria Luz Olivares Capelle, Philip Patkowitsch, Fabian Erik Patzak, Carlos Perez, Soso Phist, Mathias Pöschl, Agnes Prammer, Astrid Rausch, Anna Reisenbichler, Jörg Reissner, Werner Reiterer, Ben Reyer, Daniel Richter, Oliver Riedel, Almut Rink, Christian Rothwangl, Alfred Rottensteiner, Constanze Ruhm, Maruša Sagadin, Elisabeth von Samsonow, Peter Sandbichler, Hans Schabus, Ashley Hans Scheirl, Katharina Scheucher, Eva Schlegel, Gabriele Schöne, Anneliese Schrenk, Josef Schwaiger, Christian Schwarzwald, Ekaterina Shapiro-Obermair, Christian Stock, Gabriele Sturm, Veronika Suschnig, Sophia Süßmilch, Sasha Svirsky, Miroslava Svolikova, Martin Tardy, Sofie Thorsen, Viktoria Tremmel, Marianne Vlaschits, Stefanie De Vos, Simon Wachsmuth, Uta Weber, Andreas Werner, Nives Widauer, Anna Witt, Anastasiya Yarovenko, Oksana Zmiyevska, Heimo Zobernig, Magdalena Żyszkowska and more