Open Studios | Akademie Studio-Programm
At the Creative Cluster, currently located at a former school in the 5th district of Vienna, 11 scholarship holders of the alumni funding program Akademie Studio-Programm 2020/21 as well as other artists from the studios and project rooms show their work on site.
Opening hours every day from 2 to 10 pm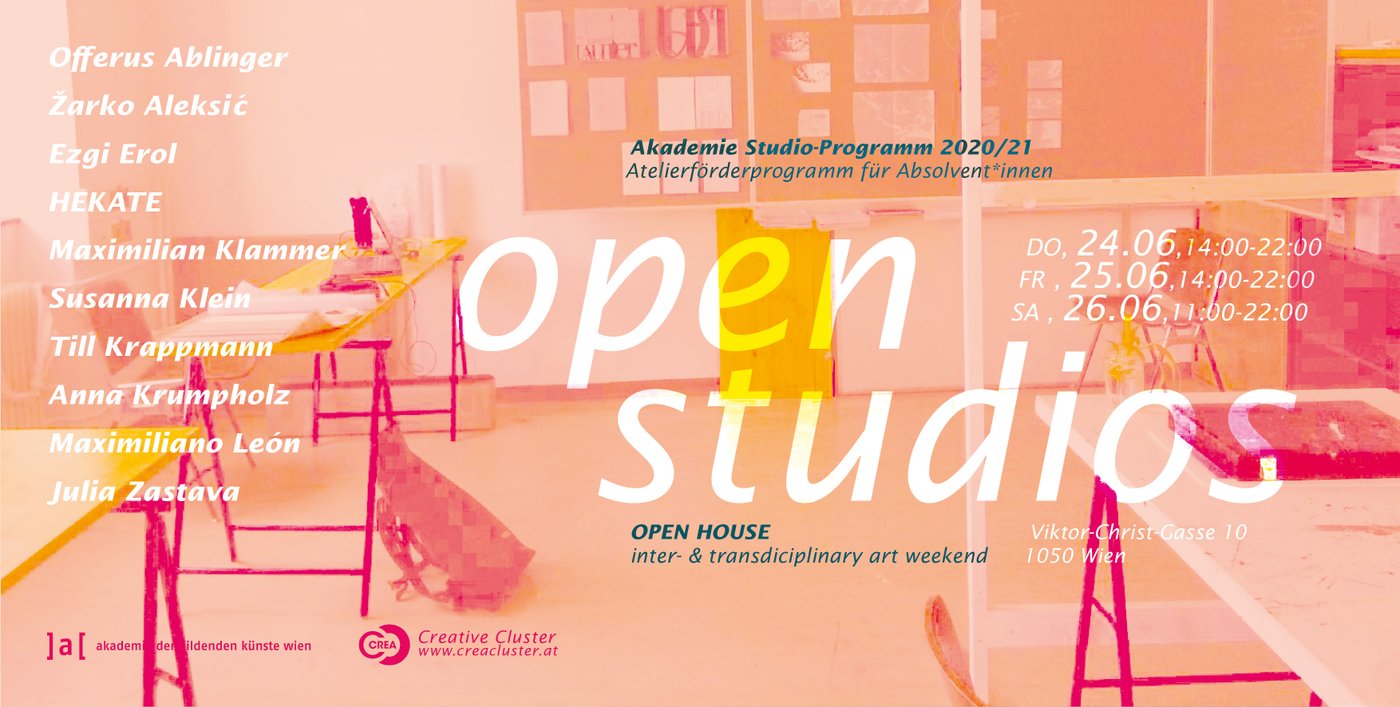 Fellows:
Offerus Ablinger – Portrait
Žarko Aleksić – Portrait
Ezgi Erol – Portrait
HEKATE – Portrait
Maximilian Klammer – Portrait
Susanna Klein – Portrait
Till Krappmann – Portrait
Anna Krumpholz – Portrait
Maximiliano León – Portrait
Julia Zastava – Portrait

In the context of Open House Creative Cluster inter- & transdisciplinary art weekend

Guided tour with Angela Stief through the academy studios: Thu, 24.6.2021, 5pm (please register at b.pflanzner@akbild.ac.at)

The event has been organized with the official current Covid19 prevention measures in mind.

Due to the generous space available at the Creative Cluster, no pre-registration for timeslots is necessary and as a cultural exhibition house of this size, no 3G regulation will be applied at entry. However, it is still recommended to show up negatively tested. The distance rule and mask obligation in the indoor area apply!
Attention: it is an old building, so the location is unfortunately not barrier-free.

At the Creative Cluster, currently located at a former school in the 5th district of Vienna, 11 scholarship holders of the alumni funding program Akademie Studio-Programm 2020/21 as well as other artists from the studios and project rooms show their work on site.

Opening hours every day from 2 to 10 pm


Opening (Limited number of participants)

Viktor-Christ-Gasse 10, 1050 Wien

Academy