Split Agency: form, standards, and authorship in times of variable media
Lecture by Mario Carpo within the series for the academic year 2009/2010 "Materialising ideas in an age of digital production".
All that is digital is variable, and today CAD-CAM or BIM notations are no less variable than any other digital media object (such as texts, images or music). Next to the formal and economic implications of the digital turn in architecture, which have already been largely assessed, architects are now testing the shifting and at times uncontrollable nature of digital authorship. New forms of digitally supported, participatory agency are already taking shape, and architects are sometimes puzzled or alarmed by the devolution of authorship that these new digital tools will inevitably entail. They should not be.
Mario Carpo teaches architectural history and theory at the Georgia Institute of Technology (Atlanta, GA). He has taught and lectured in several universities in Europe and the United States, most recently at the School of Architecture of Paris-La Villette and at Yale University, and he was the Head of the Study Centre at the Canadian Centre for Architecture from 2002 to 2005. Carpo's research and publications focus on the relationship among architectural theory, cultural history, and the history of media and information technology. Among his publications, Architecture in the Age of Printing (The MIT Press, 2001) has been translated into several languages. His next monograph, The 2 Alphabet and the Algorithm, is forthcoming in 2011 (also with the MITPress).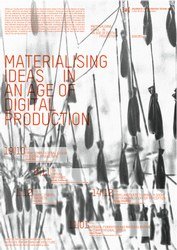 About the Lecture Series "Materialising ideas in an age of digital production"

"What am I doing here?" the British writer Bruce Chatwin asked in the
title of a collection of essays in 1989. "What are we doing here?" is
our take on Chatwin's simple yet fundamental question in order to
reflectively discuss methods of production in architecture.

This year's series of lectures at the IKA (Institute for Art and
Architecture) will explore the influence, significance and changing
potential of digital media in the process of materialising ideas. It
will seek to define the nature and extent of the productive disruption
and acceleration caused by digital media, and to investigate the
validity of the structure of ideas and materialisation.

Various viewpoints will be explored from different distances and in
diverse contexts. Historical, sociological, technological, artistic and
productive perspectives will be combined to debate a phenomenon that we feel to be one of recent decades by its very nature.

The series will feature five lectures each in the fall semester and the
spring semester. In addition, the lecture series will include a
conference on the topic at the beginning of the spring semester.

Further lectues in this series winter term 09/2010

19.10.2009, 19:00h
From Computational Design to Digital Production
Arnold Walz | designtoproduction | Zürich/Stuttgart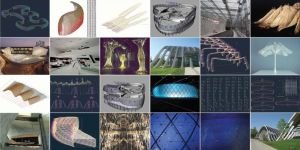 The development of new technologies on the production side has opened new perspectives on that of design and has caused a change of planning strategies in the architectural profession.
Architects have to question the planning methods and tools they have used until now. Today Architects are confronted with new forms & production possibilities and increasing demands in building requirements.
Digital models are needed in order to provide the input for digital production although they were not exactly invented to satisfy architectural needs.
These digital models should be synchronized with the building context, especially in terms of detailing, materials and size of parts.
designtoproduction tries to maintain the complexity of parts within the computer and the digital production process, preparing the automated production of individual parts which fit together in just one way, simplifying the assembly of big structures and complex architectural construction. This research and the realization of such structures will be discussed in the Lecture.

Arnold Walz, Architect (born 1953 in Stuttgart) studied architecture and planning theory at the University of Stuttgart.
He was as one of the first to develop parametric CAD-models for design optimization & construction planning and helped to improve the workmanship and precision of some of the most discussed buildings of the past years such as; The Mercedes Benz Museum in Stuttgart (UN Studio), The Centrum Paul Klee in Bern & the P&C Weltstadthaus in Cologne (RPBW), The new Porsche Museum in Stuttgart (Delugan Meissel), The Lufthansa Headquarters in Frankfurt (Ingenhoven) and many others.

In his long professional background, he has collaborated with architects such as Frei Otto, Bodo Rasch, Christoph Ingenhoven, Renzo Piano, Ben van Berkel, Herzog de Meuron and some of Germany's most innovative engineers, such as Bollinger Grohmann, Jörg Schlaich, Victor Wilhelm and Werner Sobek. In 2006 he founded, together with Fabian Scheurer, designtoproduction with offices in Stuttgart and Zürich.

For further information: http://designtoproduction.ch/
09.11.2009, 19:00h
Virtual Interiors
Annett Zinsmeister | Staatliche Akademie der Bildenden Künste |
Stuttgart

With the discovery of the central perspective, it became possible for the first time to depict space in correct proportions. As a result the city became a work of art that could be planned. Instead of symbol and pictorial formulas, the picture's subject matter, its surface, and the point of vision became the basic elements of a new construction of image and space. The central perspective became the foundation for the imagination and simulation of space. Virtual spaces embody, that is, render visible, the construction of a brave new world. Whether taking the shape of computer games, media art, or computer-based architecture, virtual spaces are constructions of a parallel reality. In this lecture Annett Zinsmeister will show some of her work which treads between analogue and digital techniques, between art and architecture that question spatial perception at the border of real and virtual space.

Annett Zinsmeister is a Berlin based artist, architect and author. She is a Professor at the State Academy of Fine Arts in Stuttgart and Head of the Weißenhofinstitut. Between 2003 & 2007 she was a visiting professor at the Kunsthochschule Berlin Weißensee und Bergische Universität Wuppertal.

exhibitions (selection):
paraflows 09, Wien 2009 (G), Digital spaces, Galerie [DAM] Digital Art Museum, Berlin 2008 (G), System Architektur I, Akademie der Wissenschaften Berlin, 2007 (E), System Architektur II, Konzerthaus am Gendarmenmarkt Berlin 2007 (E), Searching for an ideal urbanity, Akademie Schloss Solitude Stuttgart 2006, ENTRY , Zeche Zollverein Essen 2006

publications (selection):
City + War. A Trip to Sarajevo / Krieg + Stadt. Eine Reise nach Sarajevo by Annett Zinsmeister (merz/solitude Stuttgart, 2008), welt[stadt]raum. Mediale Inszenierungen Ed. (transcript Verlag, Bielefeld 2008), constructing utopia. Konstruktionen künstlicher Welten Ed. (diaphanes Verlag, Zürich / Berlin 2005), Plattenbau oder die Kunst, Utopie im Baukasten zu warten Ed.(KEOM Hagen / Berlin 2002)

For further information: http://www.annett-zinsmeister.de/
23.11.2009, 19:00h (Tuesday!)
Fabric, fibers, concrete
Mark West | University of Manitoba | Winnipeg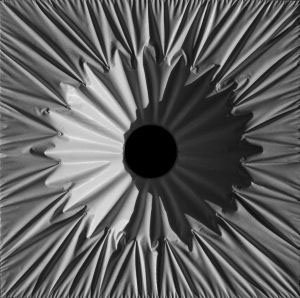 Conventional architectural design usually works through the composition and description of well known, culturally established forms that are tied not only to tradition, but to specific materials and construction techniques. With the arrival of digital media and parametric software, new palettes of form have entered the architectural imagination. These forms, however, are often entirely removed from materials or methods of construction, leaving digital architects formally empowered but physically impotent. The discoveries at C.A.S.T (the Centre for Architectural Structures and Technology) follow an inverse path to this trend. Beginning with materials and physical action (as a sculptor might), new architectural, sculptural, and structural forms are discovered through simple acts of construction and play. The complex and sophisticated structural forms found in this way are simple to construct but difficult, or impossible, to describe and analyze without the use of digital media. Our struggle is not how to build, but how to describe and predict, and therein lies a very different story of how to materialize ideas in an age of digital production.

Mark West is the Founding Director of the Centre for Architectural Structures and Technology (C.A.S.T.) at the University of Manitoba's Faculty of Architecture in Winnipeg Manitoba. CAST works as a unique combination of laboratory and studio/atelier focused on the invention of new forms of construction and new architectural forms. He is an Associate Professor in the University of Manitoba's Faculty of Architecture as well as the Faculty of Engineering. He is the inventor of numerous fabric-formed concrete techniques for architectural, sculptural, and structural applications.

He has worked as an architectural educator for over twenty years in Canada and the U.S., dedicating his research to expanding the possibilities of design and construction by combining the disciplines of architecture, engineering, sculpture, and drawing. His first education was as a builder, followed by a B.Arch. from the Cooper Union in New York, NY, and a post-professional M.Arch. from Carleton University in Ottawa, Canada. His work has received wide recognition through publications, awards, lectures and exhibitions in The Americas, Asia, and Europe.

For further information: http://www.umanitoba.ca/faculties/architecture/ http://www.umanitoba.ca/faculties/architecture/cast/index.html
14.12.2009, 19:00h
From Landscape to Image, a Short Cartographic Story of Perception
Philippe Rekacewicz | Cartographer and Journalist | Naresto/Paris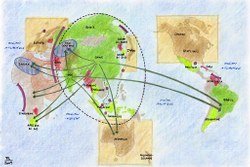 Born in 1960, Philippe Rekacewicz is double national French and
American. He is Geographer, cartographer and journalist. After the
completion of his study in geography at University of Paris la Sorbone,
he becomes in 1988 a permanent collaborator of the international
newspaper Le Monde diplomatique in Paris (today 70 editions in more than 30 languages). From 1996 to 2006, he was also heading the cartographic unit of a relocated office of UNEP (United Nations Environment Programme) in Norway (UNEP/GRID-Arendal).

He follows particularly issues such as demography, refugees and
displaced persons, migration and statelessness persons, as well as
environmental questions. More broadly, geopolitics and geostrategy.
Philippe Rekacewicz leads also number of other project which bring
together cartography, art and politics, especially studying how
communities, political or economical powers produce the cartographic
vision of the territories on which they operate, And how they can
manipulate an lies with maps

Since 2006, he also teaches regularly at the University of Bologna
(Italy) in the department of historical studies and geography). He has
since 1988, published more than 2000 original thematic maps, 20 atlases and written number of articles. He also participates to number of exhibit linking cartography to art in Austria, Sweden, Spain and France.
11.01.2010, 19:00h
Integral Formation and Materialisation in Computational Design
Achim Menges | Institute for Computational Design | Stuttgart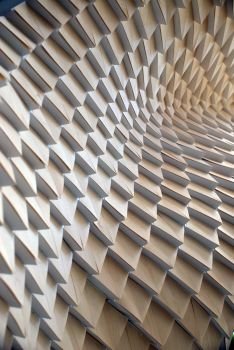 Achim Menges research focuses on computational design approaches that unfold morphological complexity and performative capacity without differentiating between form generation and materialisation processes. Based on an understanding of material systems not as derivatives of standardized building systems and elements but rather as generative drivers in the design process this approach seeks to develop and employ computational techniques and digital fabrication technologies to unfold innate material capacity and specific latent gestalt. Extending the concept of material systems by embedding their material behaviour, geometric characteristics, manufacturing constraints and assembly logics within integral computational processes promotes an understanding of form, material and structure not as separate elements, but rather as complex interrelations in polymorphic systems resulting from the response to varied input and environmental influences and derived through the logics and constraints of advanced manufacturing processes.
Achim Menges | Professor Universität Stuttgart | Institute for Computational Design | Gastprofessor Harvard Universität | Gastprofessor Architectural Association
Prof. AA Dipl. (Hons) Achim Menges, born 1975, is an architect and director of the Institute for Computational Design at Stuttgart University. Currently he also is Visiting Professor in Architecture at Harvard University's Graduate School of Design and Visiting Professor for the Emergent Technologies and Design Graduate Program at the Architectural Association in London. He taught at the AA School of Architecture as Studio Master of the Emergent Technologies and Design Graduate Program from 2002 to 2009 and as Unit Master of Diploma Unit 4 from 2003 to 2006. From 2005 to 2008 he was Professor for Form Generation and Materialisation at the HfG Offenbach University for Art and Design in Germany. In addition he has held visiting professorships in Europe and the United States.
His research projects have been published and exhibited worldwide and received numerous international awards.
Further lectues in this series summer term 2010
22.03.2010, 19:00h
Antoni Gaudí and the post digital material age
Mark Burry | age RMIT University | Melbourne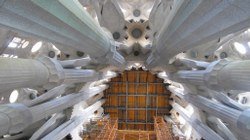 Efforts to complete Gaudí's magnum opus, the Sagrada Família Church in Barcelona, continue unabated 127 years after the project commenced and, more crucially, 83 years after the architect's death in 1926. In this time we have seen his highly original 3D design approach become increasingly more digital, with the same impact being felt in the various modes of production on site: the actual building fabric as much as the design prototypes of varying scales up to and including 1:1.
With the introduction of digital technology in 1989 the project completion date has moved dramatically forward - the interior will be substantially complete in 2010. The last two decades has seen the project transform from an anachronism to state-of-the-art application of digital technologies to both the design and building processes. What cost has this been to Gaudí's original working practice? This lecture will reveal the implications for Gaudí's successors who have been gifted with a project so demanding it acts an exemplar of contemporary best practice, not least to the 2.5 million visitors annually who witness the construction of church around and over their heads as they move round the interior and exterior of the project.
Professor Mark Burry has published internationally on two main themes: the life and work of the architect Antoni Gaudí in Barcelona, and putting theory into practice with regard to 'challenging' architecture; he has also published widely on broader issues of design, construction and the use of computers in design theory and practice. As consultant architect to the Temple Sagrada Família since 1979, Mark Burry has been a key member within the local design team based on site in Barcelona, untangling the mysteries of Gaudí's compositional strategies for his greatest work, especially those coming from his later years, the implications of which are only now becoming fully apparent as they are resolved for building purposes.
Professor Burry is Director of RMIT's state-of-the-art Spatial Information Architecture Laboratory (SIAL), which has been established as a holistic transdisciplinary research environment dedicated to almost all aspects of contemporary spatial design activity. The laboratory focuses on collocated design research and undergraduate and postgraduate teaching with associated advanced computer applications and the rapid prototyping of ideas.
For further information: http://www.sial.rmit.edu.au/
26.04.2010, 7.00 p.m.
Alex Kunz | Global Project Delivery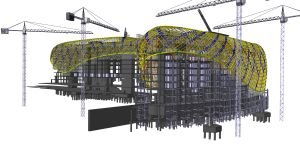 The ambitious projects of today call on wealth, expertise, resources, and even data distributed throughout the world, introducing ever increasing levels of complexity to the field of architecture.  Equally complex is the process of building, from conception to execution.  These factors demand a global approach to the organization, process, and technical infrastructure used to deliver new architecture.
Through case study of the work of Gehry Technologies and other firms, examples of global project delivery systems will be presented that enable radical performance improvement in design, engineering, and execution, and ultimately deliver a better building.

Alex Kunz is the director of Gehry Technologies' European operations.  Trained as a mechanical engineer, he has worked in the domains of engineering, fabrication, and installation of facades, built-up roofs, and reinforced concrete structures for projects such as the international airports of San Francisco, Glasgow and Heathrow Terminal 5, the retrofit to London's St. Pancras rail station, industrial factories for Intel and Motorola, and the world's largest wind-tunnel.
His work centres on improving project performance through advanced design, analysis and collaboration systems, and improved integration of design and construction methods.  GT Europe serves the projects of Jean Nouvel, Coop Himmelblau, Zaha Hadid, Oger International, Vinci Construction, Eiffel, Bouygues, and others throughout the European community.

http://www.gehrytechnologies.com/
31.05.2010, 7.00 p.m.
Monica Bonvicini | Some More or Less Projects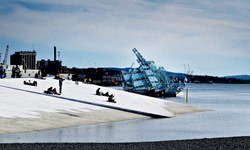 In this lecture Monica will show some of her recent projects and address the materialisation of her ideas of projects which have grown in scale to also become veritable structural, climatical and technical challenges.

One of those projects is called She Lies
She Lies is an autonomous, sculptural artwork that is permanently placed in the harbor basin just outside the Opera House in Oslo, Norway. The sculpture is a three-dimensional interpretation of Caspar David Friedrich's painting Das Eismeer from 1823-1824. The size of the sculpture is 12 x 17 x 16m. SHE LIES is an open steel construction, partly covered with reflective, semi-transparent diagonal panels. The parts of the sculpture that are not covered by these panels reveal the construction, allowing the viewer to see straight through. Weather and lighting conditions change the sculpture, and simultaneously become part of it.
She Lies is an open steel construction, partly covered with reflective, semi-transparent diagonal panels. The parts of the sculpture that are not covered by these panels will reveal the construction, allowing the viewer to see straight through. Weather and lighting conditions will change the sculpture, and simultaneously become part of it.
Born in Venice in 1965, lives in Berlin. Since 2003 Prof. for Sculprue and Performative Art at the Academy of Fine Arts Vienna.
Since 1986 she's been living, studying and working in Berlin, studying and teaching in Los Angeles, letting her language open to many different contaminations.The art of Monica Bonvicini explores the relationships among space, gender and power, using different media as drawing, video, installation. A pivotal aspect of Bonvicini's work is her formal and expressive research in the field of environment sculpture: through a reflection on the gender issues, often mixed up with sharp humor, her work concentrate on the problem of building, both from the architectonic and from the social point of view.Bonvicini's work is internationally recognized as one of the most interesting and original contribute to the art of the last years.
She won important prizes as the Preis der Nationalgalerie fuer junge Kunst in Berlin (2005) and the Leone d'Oro at the 48 Biennale di Venezia (1999). She was visiting professor at the Pasadena Art center and Cal Arts.
Monica Bonvicini's work was shown in prestigious private and public spaces: Biennale di Carrara, New Décor, Hayward Gallery, London, Max Hetzler Galerie (2010), Temporäre Kunsthalle Berlin, Scorpio's Garden, Berlin, Jumex Collection Mexico, Nothingness and Being, Mexico City, Museum für Gegegnwartskusnt Basel, Basel(2009) KW, Institute for Contemporary Art, Political Minimal, Berlin, Pinakothek der Moderne, Female Trouble, The Camera as Mirror and Stage of Female Projection in Photography and Video Art, Munich (2008), Bonniers Konsthall Stockholm, Sculpture Center New York, Triennale Bovisa, Milano (2007); 27th Sao Paulo Biennial, Galerie fόr Zeitgenφssiche Kunst Leipzig, Kunstraum Innsbruck (2006); Biennale d'Arte Contemporanea di Goeteborg, 51 Biennale di Venezia, Castello di Rivoli (2005); Migros Museum Zurigo, Sprengel Museum Hannover (2004); Secession Vienna, Museum of Modern Art Oxford, 8 Biennale di Istanbul, Fondazione Sandretto Re Rebaudengo Torino (2003); Palais de Tokio Parigi, Hamburg Kunstverein, Kunsthaus Zurigo (2002); Le Magasin Grenoble, List Visual Arts Center Cambridge (2001); Salzburger Kunstverein Salisburgo, Kunsthaus Glarus (2000); GAM Torino, De Appel Amsterdam, PS1 New York (1999).