Not Now! Now! – the very exciting temporal politics of arts-based research
Lectures by: Sharon Hayes (New York), Mathias Danbolt (Kopenhagen), Nana Adusei-Poku (Berlin), Jamika Ajalon (London, Suzana Milevska (Skopje / Wien)
Inputs by: Yva Jung (London), Ana Hoffner (Vienna), Dana Samuel (Montréal), Rana Öztürk (Dublin), Yasmine Eid Sabbagh (Vienna), Mara Lee Gerden (Gothenburg), Andrea Ray (Malmö), Ingrid Cogne (Vienna)
Exhibition with works by: Sharon Hayes, Ana Hoffner, Anna T., Henriette Meise, Xiaoyan Men, Tanya Ostojic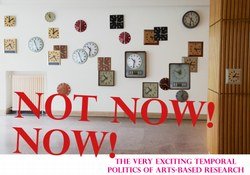 The conference NOT NOW! NOW! focuses on chronopolitics. While the field of temporality studies is relatively wide, the conference will lay special emphasis on the question of the temporal politics in the field of art. The conference departs from the premise that artistic practices are considered a productive means to challenge orderly and rigid temporal concepts and their effects on bodies and the organising of the social: How exactly and by which formats and methods can artistic practices intervene into normative, "straight," linear and normalizing concepts of time? A specific selection of exemplary art works as well as recent debates in postcolonial and queer studies will be the starting points for our common discussions.
Contemporary queer and postcolonial studies have investigated the way in which biographies and their temporal courses are responsible for the appraising of some biographies over others, for the demand for able-bodiedness and the degree to which our notions of the normal and the respectable are constructed based on a logic of reproductive temporality. They seek to produce alternatives to a developmental concept of time, alternatives which counter the temporal cycles of nation states and capitalist markets. This coalesces with the desire to displace colonial concepts of noncoevalness by which some groups are characterized as progressive, others as regressive.
How can these temporal frameworks of normalcy on the one hand and cultural and
bodily otherness on the other hand be profoundly reworked? Is it through installating a synchronous time (Homi Bhabha), through the unruly figure of anachronism (Mathias Danbolt), or the digging for and re-enactment of past potential futures, futures that, Kodwo Eshun says, are unrealized? Is it through "temporal drag", which bridges times by means of desire, values past feminist / denormalizing accomplishments and allows for "rage and longing, scorn and affection, for seemingly obsolete objects and subject-positions"? (Elizabeth Freeman) Or is it "re-speaking" in its double meaning of reenactment and resisting, a concept that Sharon Hayes claims for her own artistic practice?
The conference aims at participating in the debate around arts-based research by enriching the field through the investigation of chronopolitical interventions and the analysis of particular artistic practices and methods, which already have been developed.
Thursday, October 17
3 pm - 3.30 pm
Intro: Renate Lorenz
3.30pm - 4.30pm
Sharon Hayes: Strategies of anachronism, citation and respeaking
Chair: Mathias Danbolt, Ana Hoffner
4.30pm - 5pm break, refreshments
5pm - 6pm
Nana Adusei-Poku: "[…] To confront every second as if it has always been in existence, though its materiality is fleeting"
Chair: Christian Kravagna, Giulia Cilla
6pm - 7pm "exhibition-tour", Aula
7pm picnic
Friday, October 18
1pm - 2pm
Jamika Ajalon: "outside your timezone/ a stranger in a strange land/ NOWHERE is my home"
Chair: Dorit Margreiter, Yasmine Eid-Sabbagh
2pm - 3pm Inputs I
Yva Jung (London), Ana Hoffner (Vienna), Dana Samuel (Montréal), Rana .ztürk (Dublin)
Chair: Elske Rosenfeld
3pm - 3.30pm break, refreshments
3.30pm - 4.30pm
Suzana Milevska: VEILS/FOLDS/ARCHIVES: Production of face in space-time
Chair: Anette Baldauf, Till Gathmann
4.30pm - 5.30pm Inputs II
Yasmine Eid-Sabbagh (Vienna), Mara Lee Gerden (Gothenburg), Andrea Ray (Malmö), Ingrid Cogne (Vienna)
Chair: Moira Hille
5.30pm - 6pm break, refreshments
6pm - 7pm
Mathias Danbolt: Dormancy: Art, Timing, and the Politics of Suspension
Chair: Renate Lorenz, Mareike Bernien
7pm Drinks
Abstracts / Lectures
Sharon Hayes
Strategies of anachronism, citation and re-speaking
Although I've often looked at my own work as engaged in strategies of anachronism and historical return, re-examining my relationship to feminism and, in particular, the moment in which I became a feminist, has led me to interrogate the way in which my work is grounded in an understanding of a given public as transhistoric. In this talk, I will address several works made between 2003 and 2013 that utilize strategies of anachronism, citation and re-speaking to address such transhistoric publics.
Nana Adusei-Poku
"[…] To confront every second as if it has always been in existence, though its materiality is fleeting" 1
Thinking about the meaning of Blackness in the contemporary was the starting point for the research from which this paper derives. The more I engaged with this question in connection to contemporary Black artists and the curatorial concept post-black the stronger I was immerged in questions about time, history and the contemporary. Time also represents a central theme in the photographic work by New York based artist Leslie Hewitt, who uses not only the medium of photography strategically in order to force the spectator to decelerate the gaze, her work also opens up questions about the relational aspects of race, its marginalized histories, contemporary perceptions and archival meta-narratives.
This talk will explore Hewitt's innovative photographic work 'Riffs on Real Time' and argue that it allows the spectator to break out of the singularity of perception or identities and to realize the intrinsic temporal multiplicity outside of linearity in which we exist. I will stress this point through exploring the idea of Racial Time, Real Time as well as Queer-time in order to highlight the inevitability to dissolve the idea of Blackness from its one-dimensional conceptualization in order to open a space for a confrontation with the polysemic quality of our time and self.
1 Leslie Hewitt in Interview with Kate Menconeri 2008/09
Jamika Ajalon
"outside your timezone/ a stranger in a strange land/NOWHERE is my home"
WOC, (women of color) and their narratives- spoken, written, and lived, disrupt the 'official' chrono-political timeline which concretize historical presents (read 'modern times') and futures. Her intersectionality not only allows her the skills to navigate portals into different possible futures, but allows her access to different 'time-zones' within each passing moment. Pulling from ideas put forward in my paper 'Fugitive Archetypes of Resistance (FAR): a Metamorphical Narrative', I will reference, among others, the works of Tony Morrison, Octavia Butler, and the legendary General Harriet Tubman to explore ideas around 're memory' and the 'retelling' of pasts and presents as a function of mental and cellular time travel. I will attempt to show how, WOC, as eccentric futurists, under the totem of FAR, are time travelers, predicting and producing fantastical futures through recreating the 'fantastic' in her own image.
In light of this I will take contemporary images which pull on 'historical references'- i.e. Lincoln the Vampire Killer, and They called her Moses (on the life general Tubman)-and interpose them with narratives that come from the directly lived, and imagined experiences of WOC. I will do this through audio visual anti-lecture which will include spoken word, sonic land scape and looped images to articulate the disruption of the normative timeline via the dissonance of WOC narratives.
Suzana Milevska
VEILS/FOLDS/ARCHIVES: Production of face in space-time
This presentation will look at different models of contemporary artistic research and performative practices dealing with the issue of the veil. The political spacetime relationships that have been created by this garment for centuries still prompt many complex and conflicting cultural and socio-political implications in different contemporary cultures and spaces. Chronopolitics and geo-politics of veil's folds and fabrics touches on a very long list of urgent topics such as the relations between visual culture and patriarchy, religion, feminism and queer politics, even surveillance, terrorism, racial profiling and national security. Therefore the artists researching the veil not only inevitably ponder these issues but they also establish new chronopolitical paths and trajectories of "folding" and "unfolding" and other inflictions within time-space phenomena. I will be looking at different media art projects and artists dealing with the visual and socio-political aspects of wearing the veil because I want to argue that they address singularity and production of face (in terms of Deleuze/Guattari conceptualisation of the phrase), regardless the invisibility of women's face and body under the veil.
Mathias Danbolt
Dormancy: Art, Timing, and the Politics of Suspension
This lecture will examine the poetics of dormancy-temporary suspension of activity- in the context of a queer chronopolitics of art, activism, and history. States of dormancy tend to generate anxieties due to temporal and ontololgical uncertainty. Inhabiting the in-between of sleep and consciousness, activity and passivity, life and death, dormancy marks an indeterminate potential for sudden presence and reappearance, as in dormant viruses or diseases. Drawing on the Danish artist Henriette Heise's exploration of dormancy in her textile installations Darkness Machines, this lecture examines the politics of temporal suspension in artistic and activist work. Inspired by the attention to the timing of politics in the title for this conference-"Not Now! Now!"-the lecture focuses on aesthetic practices that suspend activity until another "now" comes into play. A suspension that is less about a messianic waiting for the "still to come," but more like the suspended activity of volcanoes that signal a build-up of a rupture of energy.