SAMMELPUNKT & Happy.thankyou.moreplease!!
We are collecting donations for refugees in connection with the opening of the exhibition With Eyes Aghast: Transmannerist Reactions .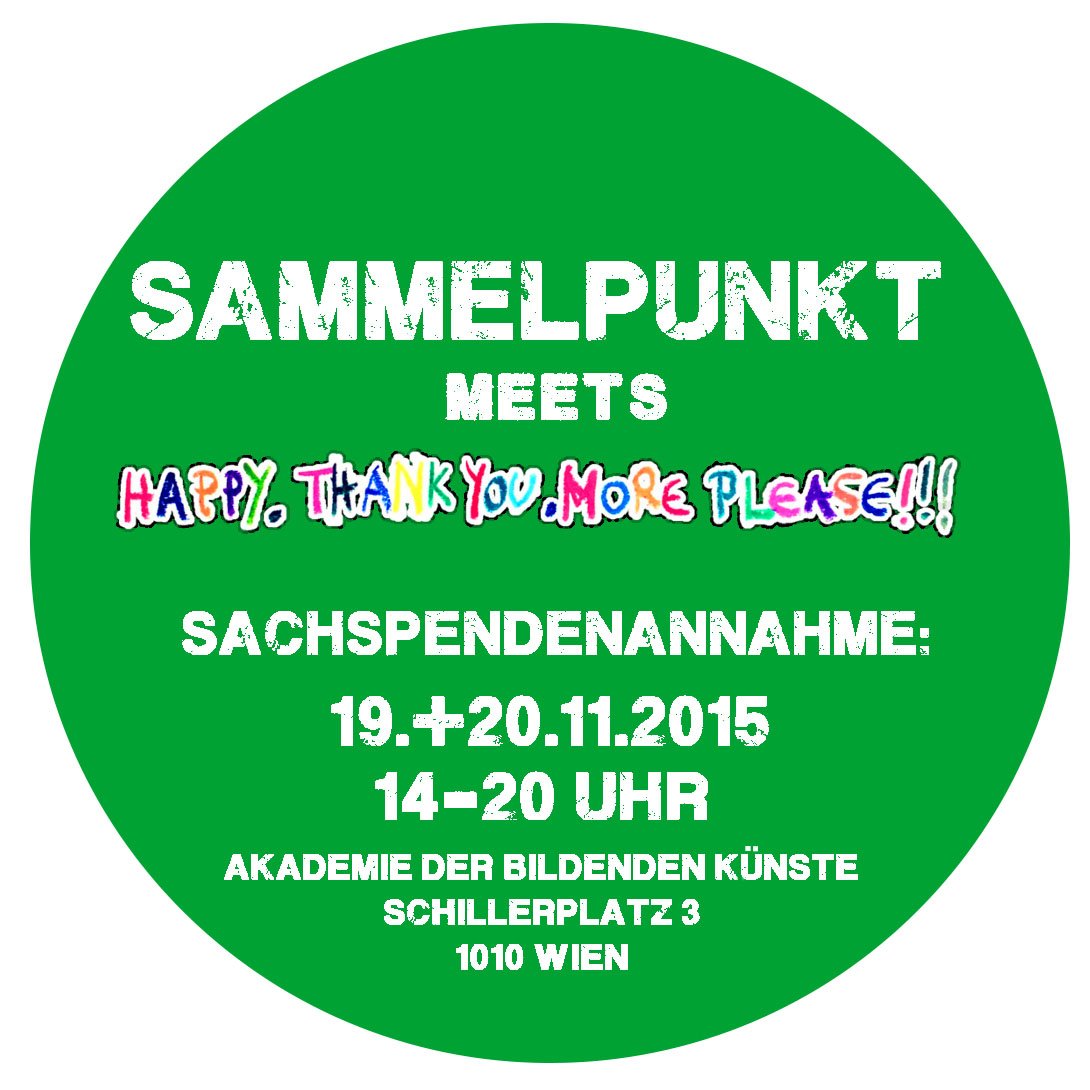 We are collecting:
# new underwear + # socks (children, women, men)
# winter jackets (children, women, men)
# winter shoes (up to size 45, for children, women, men)
# warm hats, gloves, scarves (children, women, men)
# sneakers, flip flops (men: size 40-45)
# jeans (men)
# sweaters, pullovers (men: size S/M)
# sweatpants, jogging suits, pyjamas (men)
# belts (men)
# big sports bags, trolley bags, suitcases, large
backpacks
# blue IKEA-shopping-bags (or similar bags)
# sleeping bags, camping mats
# woollen blankets (no feather duvets please)
# electric kettels, thermosbottles
# deodorant (spray cans!) - for men
# shaver + shaving foam
# shampoo + shower gel (men/unisex)
# toothbrushes + toothpaste
# hairbrushes
# sanitary pads
# baby diapers, baby wipes
# black tea
# sugar lumps
# dried dates, raisins, figs
# cookies, nuts, nuts mix
# vouchers (for Hofer, Billa, Spar, etc.)

Please donate only clean, undamaged things and unopened sanitary products - thank you!
Information
www.thankyoumoreplease.at
www.facebook.com/derSammelpunkt
https://www.akbild.ac.at/Portal/akbild_startpage
The distribution of the donations will be handled by the association for the aid to refugees Happy.thankyou.moreplease!!. The list of things needed as well as further information can be found at https://www.facebook.com/events/1102788646397998/ .
We are collecting donations for refugees in connection with the opening of the exhibition With Eyes Aghast: Transmannerist Reactions .

–

Hauptgebäude/ Foyer

Academy