The Polychromy of Early and High Medieval Wood Sculpture
FWF I Stand-alone project
led by Elisabeth Sobieczky, Institute for Conservation - Restoration
Duration: 1.9.2019 – 31.8.2023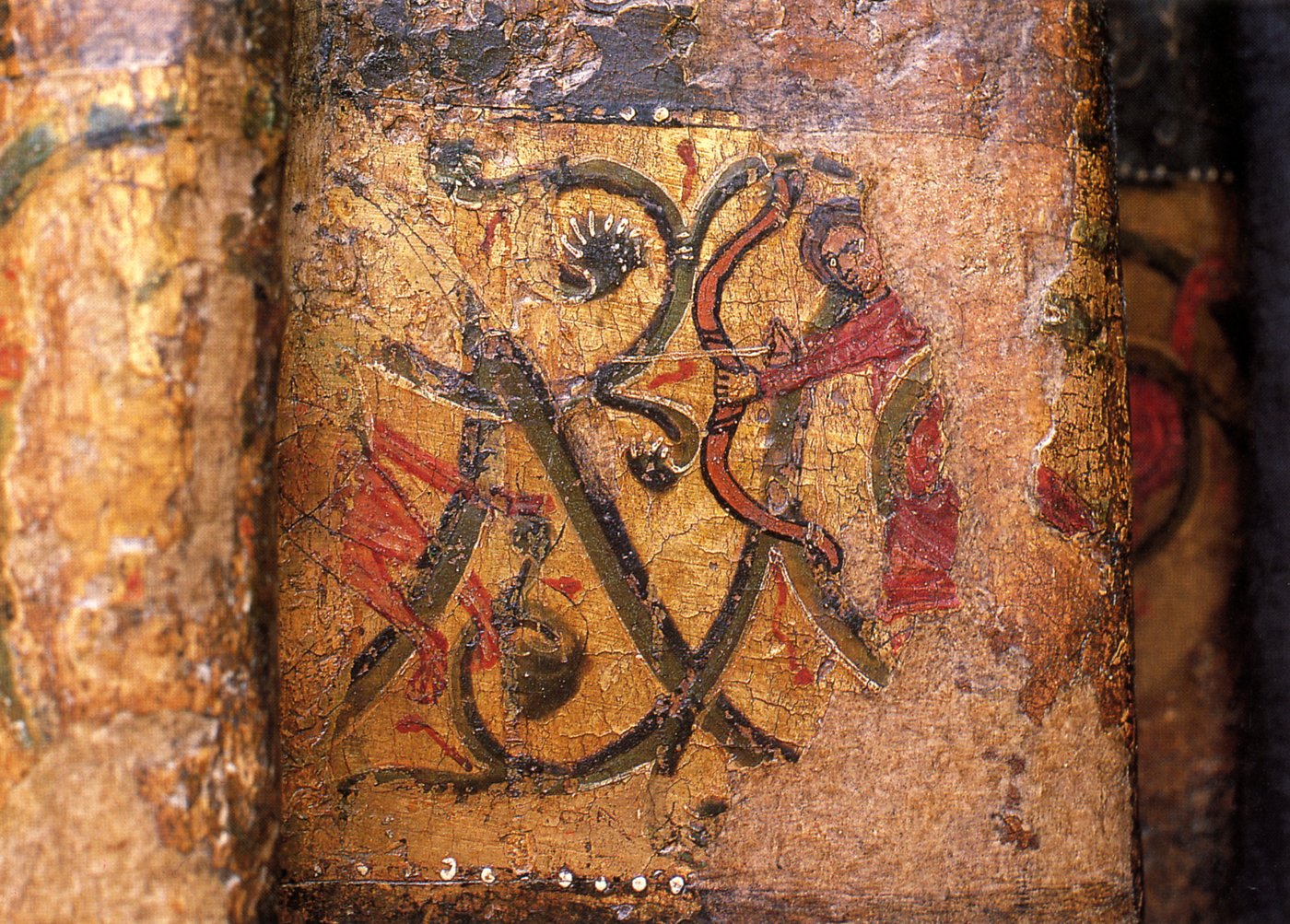 Content and hypotheses
In the European early and high medieval ages, wood sculptures used in ecclesiastic spaces have been vividly painted with colors and adorned with precious metals. Today, we know how these sculptures have been painted regarding technique and what types of pigments, colorants and metal leaves have been used. However, the aesthetic and artistic effects and meanings of these sculptures and their colorful coats have rarely been studied. In the field of art history, the art of sculpture as pure form has been evaluated for a long time to be more important than possible layers of color on it. This attitude resulted in ignoring and often destroying the colorful surfaces. Therefore, the proposed art historical study will investigate these colorful surfaces, called polychromies, recognizing polychrome wood sculpture as a specific art form of the early and high medieval ages. Its intention is to show that color is an essential part of these sculptures and that it significantly constitutes their aesthetic effects, liturgical functions, and artistic meanings.
Methods and new aspects
In the center of the proposed study will be the art historical analysis of art technical data (such as applied pigments, used painting techniques etc.) taken from available conservation research and material analysis. This approach is new because it exemplifies a method of how to asses systematically art technological results and of how to make them accessible and usable for art historical research. The investigations will analyze in detail how the different visual and aesthetic effects (such as shiny surfaces against matt ones) are created and how the different parts of the medieval wood sculptures are rendered by color and adorned with metals. Furthermore, the meaning of the used colors and metals will be examined, which is often related to the liturgical function of these sculptures. New aspects concern also the study of the artistic, cultural and economic environment of the sculptures' fabrications. Artistically influential traditions, liturgical requirements, economic circumstances and availability of pigments and other materials will be taken into consideration to better understand the reasons for painting and adorning wood sculpture with colors and metals, in the early and high medieval period.
Publications
Sobieczky, Elisabeth (2022): Throne of Gold and Dress of Stars. On the Meaning of Polychromy in High Medieval Marian Sculpture. In: Andrea-Bianka Znorovszky, Gerhard Jaritz (Eds.): Marian Devotion in the Late Middle Ages. Image and Performance. London: Routledge, pp. 6-30, DOI: 10.4324/9781003179054-2
The author accepted manuscript (AAM) is available via https://doi.org/10.21937/9a2x-vw78.
Lectures
"And my breath was refreshed by the pleasant fragrance of the Lord." (OdSal 11, 13/15). Image, Word, and Scent in the Freudenstadt Lectern
Lecture was given on: 30.09.2022
International conference Forum Kunst des Mittelalters "Sinne/Senses", Kunstgeschichtliches Institut der Universität Frankfurt am Main; 28.9.-1.10.2022
Panel: Scent and Sense: Olfaction and Memory in Medieval Material Culture, organized by International Center of Medieval Art - ICMA, New York
Programme: https://www.dvfk-berlin.de/forum/programm-2/