International Conference THE GIRL ON 'SUBJECT'=???
An event in the context of the key topic "The girl as artist and performer. Worlds of artistic de/subjectivization". Held in English language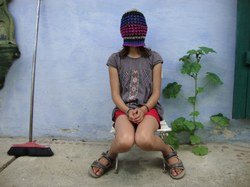 As one of the capitals of hysteria, Vienna seems to be particularly suited for a review of the girl theme under new auspices. The
hypothesis of the conference is that the symbolic girl opens the ontological frame within which the ideologemes of trans and
queer movements and those of object-oriented ontology and speculative realism are currently moving.

PROGRAM / SCHEDULE
(in English)

Friday, 22.11.2013, 7 p.m., Aula
SHAKE YOU OFF
Installation and performance
Curated by Ursula Maria Probst
"You don't know me" – displaying works by Elke Auer/Esther Straganz, Eva Chytilek, Christian Gillinger, Suzie Léger, Sonia Leimer, Mina Lunzer, Elisabeth Makovec, Nicole Miltner, Female Obsession, Isa Rosenberger, Sophia Süssmilch, Rita Vitorelli, Anna Zwingl
"Girl Anachronism" performance by LES FILLES SOPHIES (Rotterdam)
with Manon la Décadence, Caroline van Twillert, Monique Goense, Nathanja van den Heuvel, Sanne la Sense
followed by Djane Act Female Obsession, room M13 Mezzazin

Saturday, 23.11.2013, 10 a.m., room M13
THE GIRL ON 'SUBJECT'=???
10 a.m. Welcome Address by Rector Eva Blimlinger
Followed by an introduction and statement by Elisabeth von Samsonow : The Molecular Girl's Pole Position in contemporary Metaphysics
10.45 a.m. Keynote lecture by Levi Bryant (Dallas): Two Ontologies:  Posthumanism and Lacan's Graphs of Sexuation
12.00 Arantzazu Saratxag a (Karlsruhe): Whether a Girl Totem can generally exist

Lunch break

02.30 p.m. Nathanja van den Heuvel (Rotterdam): Beauty matters
03.45 p.m. Sjoerd van Tuinen : Maniera dolce and maniera grande.
The hysteria of little girls and boys
Resumé by Elisabeth von Samsonow
ca. 6 p.m. end, Reception, drinks

Concept: Elisabeth von Samsonow
Organized by Dunja Reithner and Oliver Riedel, kitchen: Barbara Wilding

Further events in the context of the key topic:

Exhibition "I am another world | Artistic Authorship between Desubjectivization and Recanonization"
Opening: 21.11.2013, 7.00 p.m., xhibit
Duration of the exhibition: 22.11.2013 - 12.01.2014
curated by Georgia Holz and Claudia Slanar