Marc Carnal, Katharina Tiwald, and Peter Waldeck present the Viennese Milena Verlag and read from new and old works.
Marc Carnal, Katharina Tiwald, and Peter Waldeck present the Viennese Milena Verlag and read from new and old works.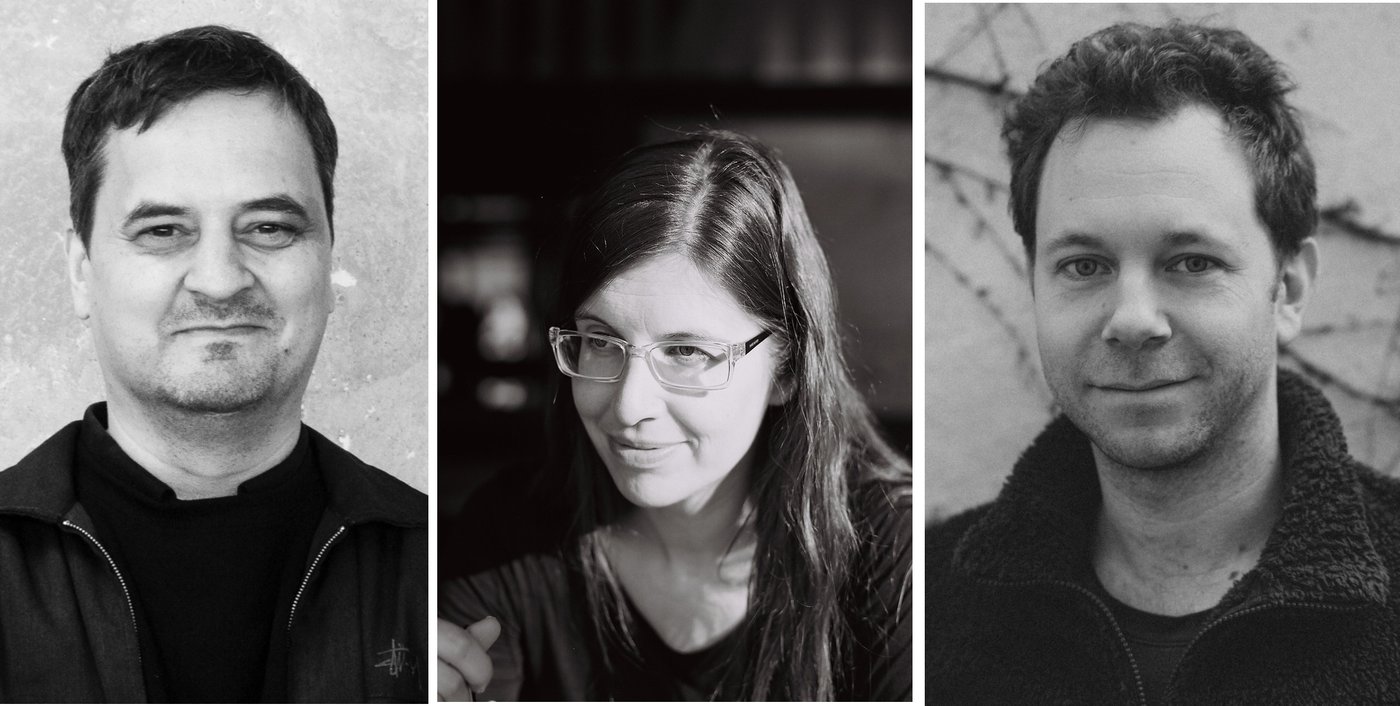 Marc Carnal writes glosses, novels, plays, radio plays, poems, and jokes for television. Among others, he is a regular contributor to FM4, Ö1, Die Tagespresse and Willkommen Österreich. Milena Verlag most recently published the text collection Die 7 Säulen des Glücks (The 7 pillars of happiness). In 2018, his live radio play Der verhängnisvolle Tod des Werner Gruber (The fateful death of Werner Gruber) was performed, and his radio play Die Hochzeit (The Wedding), told in rhyming couplets throughout, was recently voted Ö1 Radio Play of the Year. 2022 Carnal's play Das Zigarettenreich (The Cigarette Kingdom) premiered at Werk-X Petersplatz.
Katharina Tiwald, born in 1979, grew up in southern Burgenland. Studied linguistics and Russian in Vienna, St. Petersburg, and Glasgow. First book 2005, first play 2006: Schnitte-Portraits-Fremde (Cuts-Portraits-Foreign), short stories, in the edition lex liszt 12, Dorf.Interrupted (Village.Interrupted) directed by Peter Wagner at OHO (Offenes Haus Oberwart). Since then several books and plays, texts for newspapers and magazines (e.g. Die Presse, Die Furche, Der Standard). Teaching and workshops at NMSen (New secondary schools: B.Ed., PH Vienna) and, among others, Dschungel Wien. In 2019 she wrote the play Caruso. I did it my Wegas, in 2021 her latest novel Mit Elfriede durch die Hölle (With Elfriede through hell) was published by Milena. In it, she herself tours through hell with Elfriede Jelinek, which is located at Schwechat Airport.
Peter Waldeck has been working in the field of literature, wrestling and comics with his theater group Casa Del Kung Fu since 1995. Between 1996 and 2006 he organized the film club series Otakoo Saloon and dedicated himself to writing comics. The melancholy comic series El Pablo versus El Diablo (with Jan Limpens) appeared regularly in the quality newspaper Folha de S. Paulo, the daily with the largest circulation in Latin America. The FALTER chose his play Fantomas – Das Action Musical (Fantomas – The Action Musical) among the 10 best theater productions of 2008. In winter 2012 his play Columbo Dreams with Manuel Rubey, Eva Maria Marold, Christian Dolezal, and Gerald Votava had its premiere at the Rabenhof Theater and celebrated great success with critics and audiences. In 2017, his debut novel Die 67 enttäuschendsten Sexfilme aller Zeiten (The 67 most disappointing sex films of all time) was published by Milena Verlag, followed in 2019 by Triumph des Scheiterns (Triumph of Failure). The new novel Spaß und Schulden am Neustifter Kirtag (Fun and Debts at the Neustift Kirtag) has just been published.