Photography as Motif – A Book, a Medium, and Many Motives
An evening about photography, theory and practice, the act of reproducing, women and photography, the necessity of photography training, and book design under the Academy Library's event series Wer A… sagt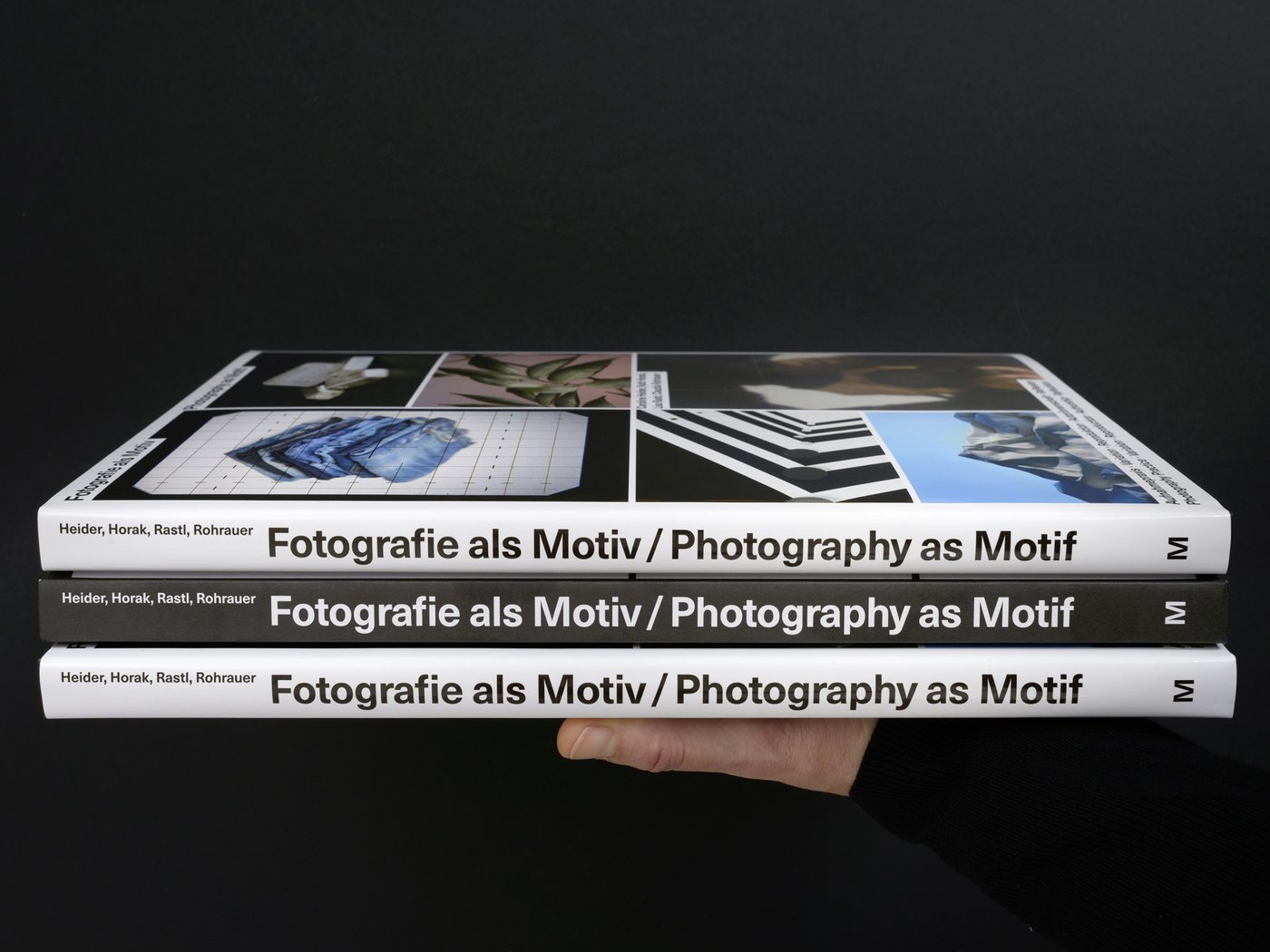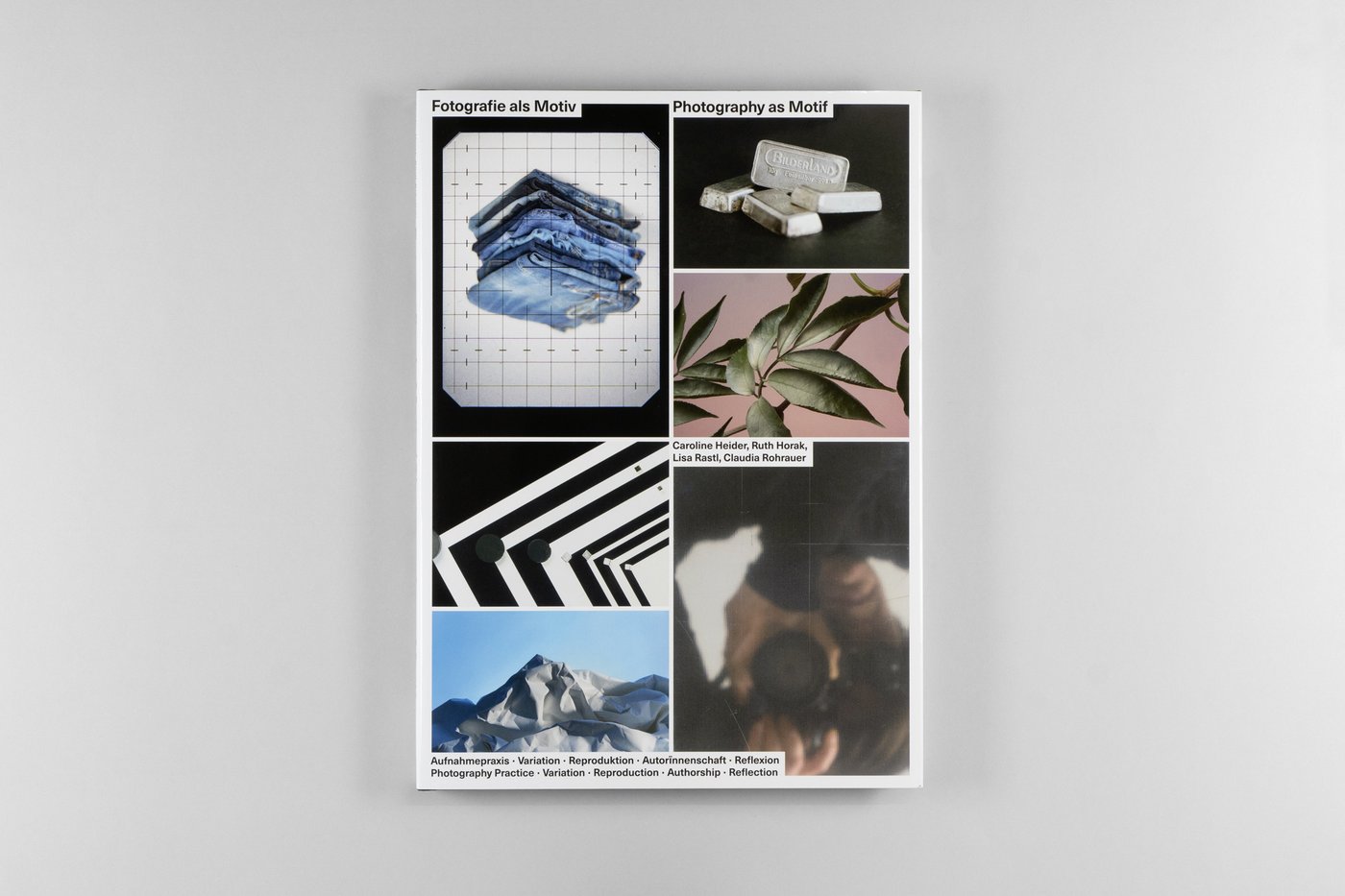 Four women, three artists and one curator, joined forces in 2019 to bring together their shared interest in photography as an artistic motif in exhibitions, symposiums, and publications. Under the programmatic title of Photography as Motif, they reflect on their craft, their own qualifications, the technical and theoretical knowledge, their work on the motif, in short: the facets of imaging media. "To them, the act of photographing is not only a necessity, but a source of fascinating subjects that may take on a form of their own and become an artistic motif." (Ruth Horak)
This also reflects in the artists' respective biographies: At the outset, there is always professional training—photography (Lisa Rastl and Claudia Rohrauer) and camera technology (Caroline Heider)—followed by artistic education at the Academy of Fine Arts Vienna. Currently, all three of them teach at the University of Applied Arts Vienna, or head the Analogue Photography there. Ruth Horak is a graduate in art history from the University of Vienna and has written about photography as an art medium since the 1990s.
Book presentation and guest lectures
Based on their publication Photography as Motif, editors Caroline Heider, Lisa Rastl, Claudia Rohrauer, and Ruth Horak provide, in 10-minute statements, an insight into their practical, artistic-conceptual, and theoretical work in and about photography.
Also, authors Ulrike Matzer and Andreas Spiegl speak about the place of women in the long male and technology-dominated history of photography as well as about the fact that mandatory photography training was dropped in Austrian trade regulations.
Graphic designer Astrid Seme presents the ideas that informed her book design—Photography as Motif was awarded a 2022 "Austria's Most Beautiful Books" State Prize.
"meta-photography – in this type of photography, the conditions of its production become the subject matter" Taco Hidde Bakker, Camera Austria
"Media-reflective and with profound practical as well as theoretical knowledge, the artists explore the titular photography as motif." Veronika Rudorfer, EIKON
"Ruth Horak has long been researching and analyzing photography while the world for the most part is about to be drowned—unreflectingly— in a veritable flood of images." Gregor Auenhammer, Der Standard
Short biographies
Caroline Heider is a visual artist and filmmaker. The focus of her work is on the investigation of technical images, their mode of operation, production conditions, gender aspects, and the transfer of analog photographic technologies into the digital realm. She teaches and researches at the University of Applied Arts Vienna in the Department of Applied Photography and Time-Based Media as Senior Lecturer. In her ongoing project Fotografie zum Zeitvertreib [Photography to Pass the Time], she is revising Hermann Schnauss' historical instruction book on photography from the 20th century. Caroline Heider studied camera and image technology at the Vienna Film Academy and at the Art and Photography Studio of the Academy of Fine Arts Vienna.
https://www.carolineheider.com/
Ruth Horak—Her web account photography-she-said says it all: She has been talking about photography for years, without stopping, in lectures, exhibitions, magazines, books—and most of all about photographs that are about photography. She is curating exhibitions about photography, has uncovered a little secret about Roland Barthes and found out what matters in good photography. She is working on an "inventory" of photography with examples from art, film, literature and everyday media that together might give an idea of what photography is all about. While everyone is taking pictures, some can be engaged in photography.
Ulrike Matzer is an art historian, cultural scientist, and critic. Her work is centered at the intersection of visual culture, gender studies, history of science, media, and materiality. She is currently a postdoctoral researcher, and since fall 2022 she has been teaching as a lecturer at the University of Zurich as part of the Theory and History of Photography postgraduate program. Previously, she held the Visiting Professorship for History and Theory of Photography at the University of Applied Arts in Vienna. For her dissertation on early Viennese professional women photographers she was awarded the Johanna Dohnal-Förderpreis in 2021.
Lisa Rastl works as an artist and photographer. She was trained as a photographer at the Höhere Graphische Bundes-Lehr- und Versuchsanstalt and, after passing her master's examination, attended the Friedl Kubelka School of Artistic Photography. A few years later she studied Fine Arts with Heimo Zobernig at the Academy of Fine Arts Vienna. As a photographer she works freelance for various art institutions, artists, art collections, architectural offices. Since 2021, together with Claudia Rohrauer, she has headed the Studio Analogue Photography at the University of Applied Arts Vienna. Several years of work as a photographer at the mumok—Museum moderner Kunst Stiftung Ludwig Wien and the accompanying questions on topics such as authorship and copyright, the role of photography as a reproduction medium, and the relationship between original and copy became the impetus for her artistic practice.
https://www.lisarastl.com/
Claudia Rohrauer began her education at the Department of Photography and Audiovisual Media at the Höhere Graphische Bundes-Lehr- und Versuchsanstalt in Vienna. During a subsequent three-year excursion into press photography, she realized that "the medium is right, but not the content." Consequently, she studied at the School of Artistic Photography Vienna with Friedl Kubelka and at the Studios of Art and Photography as well as Video and Video Installation of the Academy of Fine Arts Vienna. Since then, she has been investigating photography with artistic and pseudo-scientific methods in order to make the diversity, the potentials and the abysses of the medium visible. Since 2021, she has been co-directing the Studio Analogue Photography at the University of Applied Arts Vienna with Lisa Rastl.
https://www.claudiarohrauer.info/
Astrid Seme runs her eponymous graphic design and visual communication studio in Vienna. After graduating from the University of Applied Arts in Vienna, she completed the master's program Werkplaats Typografie in the Netherlands. With a strong focus on typography, the studio works in the following areas: Art direction, books and editorial projects, visual identity and websites. In conjunction with her design practice, Seme explores the acoustic dimension of typography, resulting in sound work such as Urbirds singing the Sonata. In 2019, she published Baroness Elsa's em dashes.—an anthology dedicated to a single punctuation mark, the dash.
Together with Thomas Geiger she runs Mark Pezinger Books, a publishing house for artists' books.
Andreas Spiegl studied art history at the University of Vienna and teaches and researches as Senior Scientist at the Institute for Art Theory and Cultural Studies at the Academy of Fine Arts Vienna, where he was also Vice-Rector for Research and Teaching from 2003 to 2011. His work focuses on the intersections of media, subject, and spatial theories.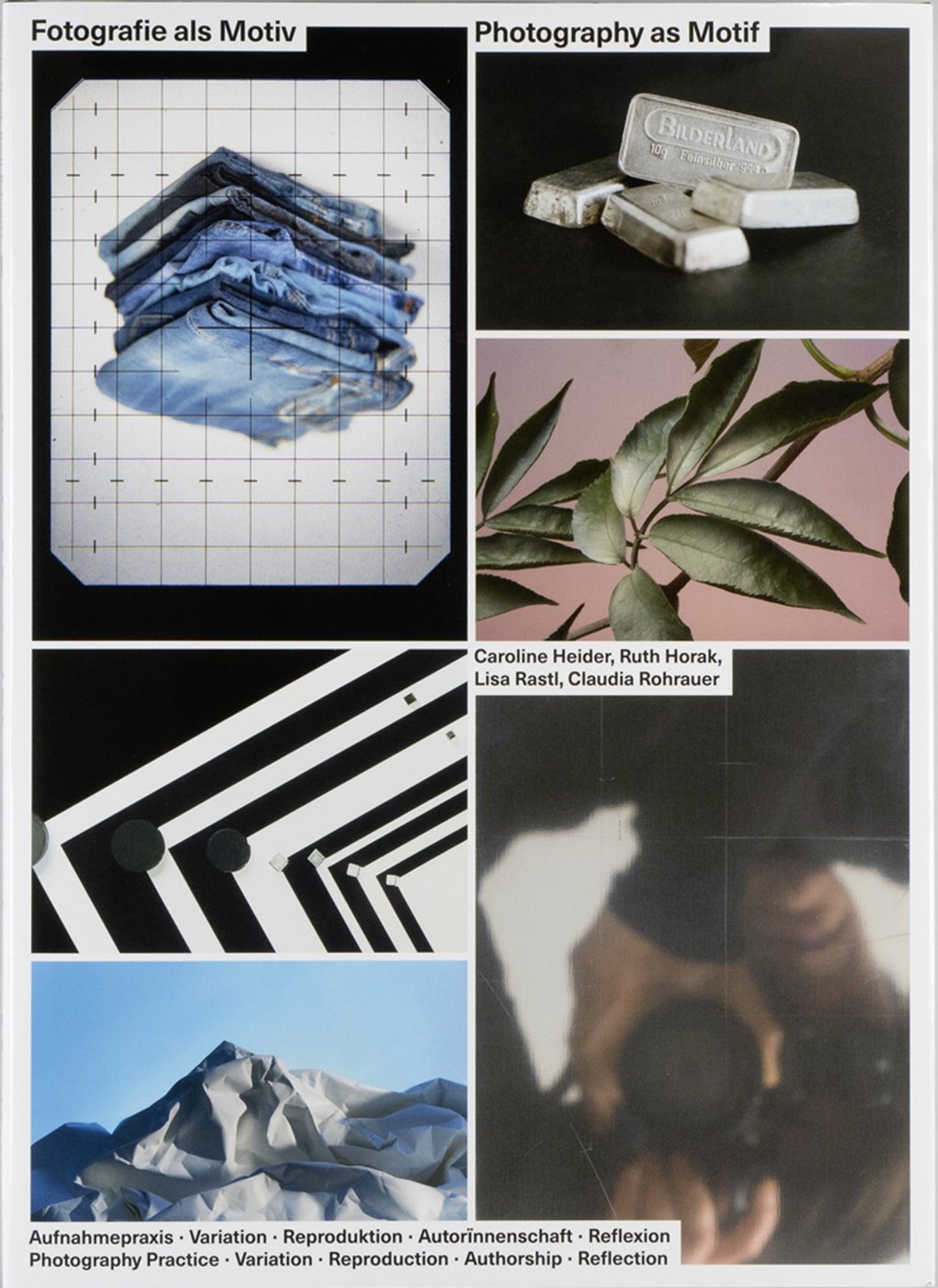 Caroline Heider, Ruth Horak, Lisa Rastl, Claudia Rohrauer (eds.): Fotografie als Motiv / Photography as Motif
With contributions by Caroline Heider, Ruth Horak, Ulrike Matzer, Lisa Rastl, Claudia Rohrauer, Andreas Spiegl, Franz Thalmair (German/English).
204 pages, 23 × 32 cm, num. B/W and color ills., graphic design: Astrid Seme, Studio. Mark Pezinger Books, Vienna 2021.
ISBN 978-3-903353-06-0